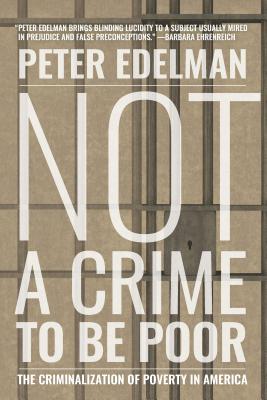 Not a Crime to Be Poor The Criminalization of Poverty in America (Hardcover)
New Press, 9781620971635, 320pp.
Publication Date: October 31, 2017
Other Editions of This Title:
Paperback (7/2/2019)
Compact Disc (10/31/2017)
MP3 CD (10/2/2018)
Compact Disc (10/2/2018)
MP3 CD (10/31/2017)
Compact Disc (10/31/2017)
* Individual store prices may vary.
Description
Awarded "Special Recognition" by the 2018 Robert F. Kennedy Book & Journalism Awards Finalist for the American Bar Association's 2018 Silver Gavel Book Award Named one of the "10 books to read after you've read Evicted" by the Milwaukee Journal Sentinel "A powerful investigation into the ways the United States has addressed poverty. . . . Lucid and troubling."
--Matthew Desmond, author of Evicted, in The Chronicle of Higher Education A nationally known expert on poverty shows how not having money has been criminalized and shines a light on lawyers, activists, and policy makers working for a more humane approach
In addition to exposing racially biased policing, the Justice Department's Ferguson Report exposed to the world a system of fines and fees levied for minor crimes in Ferguson, Missouri, that, when they proved too expensive for Ferguson's largely poor, African American population, resulted in jail sentences for thousands of people. As former staffer to Robert F. Kennedy and current Georgetown law professor Peter Edelman explains in Not a Crime to Be Poor, Ferguson is everywhere in America today. Through money bail systems, fees and fines, strictly enforced laws and regulations against behavior including trespassing and public urination that largely affect the homeless, and the substitution of prisons and jails for the mental hospitals that have traditionally served the impoverished, in one of the richest countries on Earth we have effectively made it a crime to be poor. Edelman, who famously resigned from the administration of Bill Clinton over welfare "reform," connects the dots between these policies and others including school discipline in poor communities, child support policies affecting the poor, public housing ordinances, addiction treatment, and the specter of public benefits fraud to paint a picture of a mean-spirited, retributive system that seals whole communities into inescapable cycles of poverty.

About the Author
Peter Edelman is the Carmack Waterhouse Professor of Law and Public Policy and the faculty director of the Center on Poverty and Inequality at Georgetown University Law Center. Edelman was a top advisor to Senator Robert F. Kennedy and served in President Bill Clinton's administration. He is the author of So Rich, So Poor (The New Press) and lives in Washington, D.C.
Praise For Not a Crime to Be Poor The Criminalization of Poverty in America…
"This compelling, insightful examination of how we demonize the poor and sustain poverty through our misguided policies is essential reading for anyone trying to understand the demands of social justice in America. Sharp, critical analysis of an issue too frequently ignored."
—Bryan Stevenson, author of Just Mercy


"A comprehensive, readable, and shocking examination of the criminalization of poverty, and punishments that consist of fines and fees the poor cannot afford and conditions they cannot meet."

—Stephen Bright, president of the Southern Center for Human Rights


"The intersection of race, poverty and the criminal justice system is compellingly examined in Peter Edelman's new book, Not a Crime to Be Poor. It should be required reading for all those who seek equal justice in our nation."

—Judge Jonathan Lippman, former chief judge of the New York Court of Appeals


"An extraordinary exposé of the criminalization of poverty, a vivid explanation of its many guises, and an inspiring call and guide to reform. Over the past half century no one has been more committed to struggles against impoverishment and its cruel consequences than Peter Edelman. Not a Crime to Be Poor is another chapter in his admirable career."

—Randall Kennedy, professor, Harvard Law School


"A chilling exposé of how America's courts, once bastions of justice, now routinely degrade themselves, and the nation, by ruthlessly extracting resources from our nation's most vulnerable citizens, rendering it a crime to be too poor to pay. It also names names—both the names of the villains who chose to exploit the poor and the heroes who fight back. Please read this book."

—Kathryn Edin, co-author of $2.00 a Day: Living on Almost Nothing in America