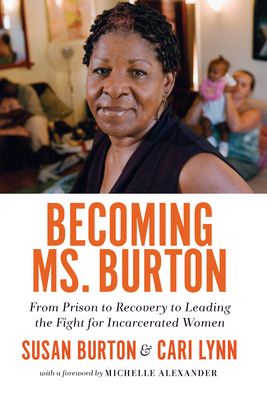 Becoming Ms. Burton (Hardcover)
From Prison to Recovery to Leading the Fight for Incarcerated Women
New Press, 9781620972120, 228pp.
Publication Date: May 9, 2017
Description
Winner of the 49th NAACP Image Award for Outstanding Literary Work (Biography/Autobiography)
Winner of the 2017 Goddard Riverside Stephan Russo Book Prize for Social Justice
"Valuable . . . like Michelle] Alexander's
The New Jim Crow
."
--
Los Angeles Review of Books
"Susan Burton is a national treasure . . . her life story is testimony to the human capacity for resilience and recovery . . . Becoming Ms. Burton is] a stunning memoir."
--Nicholas Kristof, in
The New York Times
One woman's remarkable odyssey from tragedy to prison to recovery--and recognition as a leading figure in the national justice reform movement
Susan Burton's world changed in an instant when her five-year-old son was killed by a van driving down their street. Consumed by grief and without access to professional help, Susan self-medicated, becoming addicted first to cocaine, then crack. As a resident of South Los Angeles, a black community under siege in the War on Drugs, it was but a matter of time before Susan was arrested. She cycled in and out of prison for over fifteen years; never was she offered therapy or treatment for addiction. On her own, she eventually found a private drug rehabilitation facility.
Once clean, Susan dedicated her life to supporting women facing similar struggles. Her organization, A New Way of Life, operates five safe homes in Los Angeles that supply a lifeline to hundreds of formerly incarcerated women and their children--setting them on the track to education and employment rather than returns to prison. Becoming Ms. Burton not only humanizes the deleterious impact of mass incarceration, it also points the way to the kind of structural and policy changes that will offer formerly incarcerated people the possibility of a life of meaning and dignity.
About the Author
Susan Burton is the founder and executive director of A New Way of Life, a nonprofit that provides sober housing and other support to formerly incarcerated women. She is nationally known as an advocate for restoring basic civil and human rights to those who have served time. Burton was a winner of AARP's prestigious Purpose Prize and has been a Starbucks(R) "Upstander," a CNN Top 10 Hero, a Soros Justice Fellow, and a Women's Policy Institute Fellow at the California Wellness Foundation, and she is the co-author, with Cari Lynn, of Becoming Ms. Burton (The New Press). She lives in Los Angeles.
Coverage from NPR
Advertisement