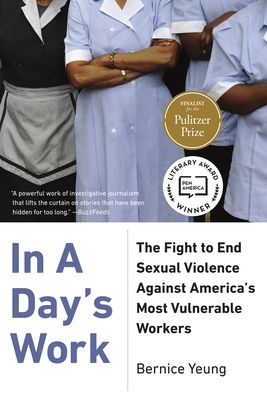 In a Day's Work
The Fight to End Sexual Violence Against America's Most Vulnerable Workers
Hardcover

* Individual store prices may vary.
Other Editions of This Title:
Paperback (5/5/2020)
Compact Disc (12/10/2019)
MP3 CD (12/10/2019)
Description
2019 Pulitzer Prize Finalist in General Nonfiction
Winner of the PEN/John Kenneth Galbraith Award

Winner of the 2018 Goddard Riverside Stephan Russo Book Prize for Social Justice

In a Day's Work is a . . . much-needed addition to the literature on sexual harassment in the U.S.
--The New York Review of Books

A searing expos about the hidden stories of immigrant workers overlooked by #MeToo--at turns heartrending and hopeful--by acclaimed journalist and Pulitzer Prize finalist Bernice Yeung

Apple orchards in bucolic Washington state. Office parks in Southern California under cover of night. The home of an elderly man in Miami. These are some of the workplaces where female workers have suffered brutal sexual assault and shocking harassment at the hands of their employers, often with little or no official recourse. In this harrowing yet often inspiring tale, investigative journalist Bernice Yeung exposes the epidemic of sexual violence levied against women farmworkers, domestic workers, and janitorial workers and charts their quest for justice in the workplace.
Yeung takes readers on a journey across the country, introducing us to women who came to America to escape grinding poverty only to encounter sexual violence in the United States. In a Day's Work exposes the underbelly of economies filled with employers who take advantage of immigrant women's need to earn a basic living. When these women find the courage to speak up, Yeung reveals, they are too often met by apathetic bosses and underresourced government agencies. But In a Day's Work also tells a story of resistance, introducing a group of courageous allies who challenge dangerous and discriminatory workplace conditions alongside aggrieved workers--and win. Moving and inspiring, this book will change our understanding of the lives of immigrant women.
New Press, 9781620973158, 240pp.
Publication Date: March 20, 2018
About the Author
Bernice Yeung is an award-winning journalist for Reveal from The Center for Investigative Reporting. She was a 2015-2016 Knight-Wallace Fellow at the University of Michigan. Her work has appeared in the New York Times, Mother Jones, and The Guardian, as well as on KQED Public Radio and PBS Frontline. She lives in Berkeley, California.