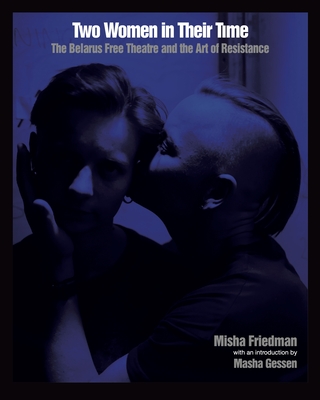 Two Women in Their Time (Paperback)
The Belarus Free Theatre and the Art of Resistance
New Press, 9781620974056, 192pp.
Publication Date: October 19, 2021
* Individual store prices may vary.
Description
A collaboration between a National Book Award-winning journalist and a prize-winning photographer on the queer-resistance theater troupe
In the fall of 2017, the internationally acclaimed underground theater troupe Belarus Free Theatre took New York by storm for a production of their harrowing anti-torture, anti-Putin play Burning Doors. Joined by Maria Alyokhina, a member of Russian punk group Pussy Riot, the play met with enthusiastic acclaim from critics, with New York magazine praising it as a "smart, smoldering, physically brutal piece of the theater."
In Two Women in Their Time, award-winning documentary photographer Misha Friedman and New Yorker reporter Masha Gessen take us backstage, giving us an intimate look at this fiercely creative drama troupe that cannot officially perform in its homeland, which remains a dictatorship in all but name.
Two Women in Their Time is not only an astonishing series of photos documenting the theater troupe's recent production in New York, for Gessen and Friedman also visit Minsk to meet Svetlana Sugako and Nadezhda Brodskaya, the young lesbian couple who keep the place running. This book is a moving examination of what it is like to create art under a repressive government and a meditation on how queerness will always be a threat to autocracy.
Two Women in Their Time was designed by Emerson, Wajdowicz Studios (EWS).
About the Author
Misha Friedman is an award-winning documentary photographer whose work has appeared in the New York Times, the Los Angeles Times, and the New Yorker.Maria Alexandrovna "Masha" Gessen (Introduction) is a Russian and American journalist and the National Book Award-winning author of The Future Is History. She lives in New York City.
or
Not Currently Available for Direct Purchase