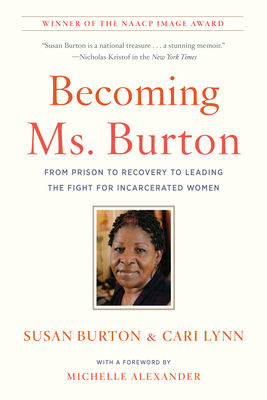 Becoming Ms. Burton (Paperback)
From Prison to Recovery to Leading the Fight for Incarcerated Women
New Press, 9781620974353, 336pp.
Publication Date: February 12, 2019
* Individual store prices may vary.
Description
"Valuable . . . like Michelle] Alexander's The New Jim Crow."
--Los Angeles Review of Books
"Susan Burton is a national treasure . . . her life story is testimony to the human capacity for resilience and recovery . . . Becoming Ms. Burton is] a stunning memoir."
--Nicholas Kristof, in The New York Times Winner of the prestigious NAACP Image Award, a uniquely American story of trauma, incarceration, and "the breathtaking resilience of the human spirit" (Michelle Alexander)
Widely hailed as a stunning memoir from someone more likely to be locked up or otherwise silenced, Becoming Ms. Burton is the life story of Susan Burton, whose organization A New Way of Life has transformed the lives of more than one thousand formerly incarcerated women in Los Angeles.
In this "stirring and moving tour-de-force" (John Legend), Susan takes us on her own journey through the criminal justice system--from growing up amid poverty and abuse in L.A. to battling addiction after tragically losing her son, and from cycling in and out of prison for more than fifteen years to her transformation into a powerful advocate for "a more humane justice system guided by compassion and dignity" (Booklist, starred review).
Frequently compared to The New Jim Crow and Just Mercy, Becoming Ms. Burton--winner of the Goddard Riverside Stephan Russo Book Prize for Social Justice--is an unforgettable book on the devastating impact of mass incarceration that powerfully shows the structural changes necessary to restore the lives of formerly incarcerated people.
The paperback edition includes a reading group guide.
About the Author
Susan Burton is the founder and executive director of A New Way of Life, a nonprofit that provides sober housing and other support to formerly incarcerated women. Nationally known as an advocate for restoring basic civil and human rights to those who have served time, Burton was a winner of AARP's prestigious Purpose Prize and has been a Starbucks "Upstander," a CNN Top 10 Hero, and a Soros Justice Fellow. She lives in Los Angeles. Cari Lynn is a journalist and the author of five books of nonfiction, including Leg the Spread and The Whistleblower (with Kathryn Bolkovac). Lynn has written for O, The Oprah Magazine; Health; the Chicago Tribune; and Deadline Hollywood. She lives in Los Angeles. Michelle Alexander is the author of the bestselling The New Jim Crow: Mass Incarceration in the Age of Colorblindness (The New Press). She lives in Ohio.