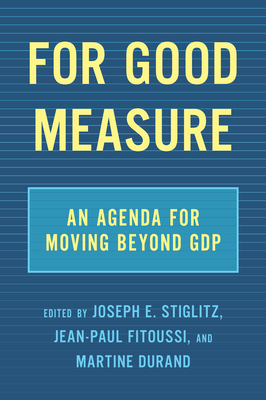 For Good Measure (Hardcover)
An Agenda for Moving Beyond Gdp
New Press, 9781620975718, 448pp.
Publication Date: November 19, 2019
* Individual store prices may vary.
Description
Today's leading economists weigh in with a new "dashboard" of metrics for measuring our economic and social health
"What we measure affects what we do. If we focus only on material well-being--on, say, the production of goods, rather than on health, education, and the environment--we become distorted in the same way that these measures are distorted."
--Joseph E. Stiglitz
A consensus has emerged among key experts that our conventional economic measures are out of sync with how most people experience their lives. GDP, they argue, is a poor and outmoded measure of our well-being.
The global movement to advance beyond GDP has attracted some of the world's leading economists, statisticians, and social thinkers who have worked collectively to articulate new approaches to measuring economic well-being and social progress. In the decade since the 2008 economic crisis, these experts have come together to create a new "dashboard" of indicators of what actually makes for better lives.
In the first book of its kind, leading economists from around the world--including Thomas Piketty, Emmanuel Saez, Jacob Hacker, Fran ois Bourguignon, Alan Krueger, and Joseph E. Stiglitz--describe a range of fascinating metrics--from economic insecurity and environmental sustainability to inequality of opportunity and levels of trust and resilience--that can at least supplement the simplistic measure of gross domestic product, providing a far more nuanced and accurate account of societal health and well-being.
This groundbreaking volume is sure to provide a major source of ideas and inspiration for one of the most important intellectual movements of our time.
About the Author
Joseph E. Stiglitz, a Nobel laureate in economics, is university professor at Columbia University and chief economist at the Roosevelt Institute. He is the author of The Stiglitz Report and a co-author of Mismeasuring Our Lives. He lives in New York City. Jean-Paul Fitoussi is professor emeritus at the Institut d'Etudes Politiques de Paris (SciencesPo), Paris, and professor at LUISS Guido Carli University, Rome. He is a co-author of Mismeasuring Our Lives and a co-editor of For Good Measure. He lives in Paris. Martine Durand is the chief statistician and director of statistics of the OECD. She is a co-author of Measuring What Counts. She lives in Paris.