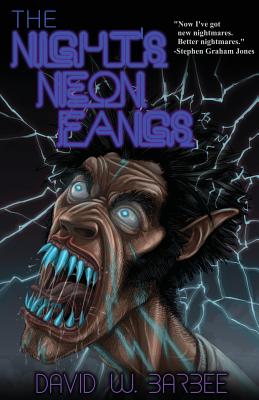 The Night's Neon Fangs (Paperback)
Eraserhead Press, 9781621051756, 184pp.
Publication Date: January 1, 2015
* Individual store prices may vary.
Description
Presenting three novellas from bizarro author David W. Barbee, featuring electric werewolves, cyborg psychopaths, and a drunken ghost on a mission from God.
THE NIGHT'S NEON FANGS
On Christmas night, Buster Wade is cursed by the high voltage bite of an electric werewolf. With his life in shambles, he takes a job as the bodyguard for a grisly old miser looking to harness the bloodthirsty lightning coursing through his veins. Together, they travel a grotesque American monsterscape, sweeping up mummies that rain from the sky. Can Buster contain himself until he's able to end his curse? Or will he sink his sizzling neon fangs into everyone around him?
NOAH'S ARKOPOLIS
Noah's Ark never found land. The Lord God left him and all the animals alone on a planet of endless ocean. In the coming centuries, Noah's simple boat became Arkopolis, a floating city where Noah's human family and all the animals of the earth bred generations of mutant citizens. Now, that animal world is on the brink of war, and their only hope is the ghost of their righteous, noble, and falling-down-drunk founder, Noah.
THAT ULTIMO SUMBITCH
He roams the outback astride the meanest ostrich alive, a stone-cold killer with six-shooters for hands, on the hunt for wanted outlaws, reptiloid invaders, and scalp-hungry hippies. He has a name, but in this bionic, Bizarro western, they all call him that ultimo sumbitch.
BATCOP OUTTA HELL
All the people in Guano City are bats, and upholding the law are the crime-fighting batcops. But something is rotten in the caped crusaders' ranks. A slain officer has returned from the pits of Hell to take revenge for his family's unjust murder and rejoin the force. Now, the lovable misfits of Precinct 7 must help their fellow officer on his bloody rampage across Guano City, all for the glory of the Batdevil.