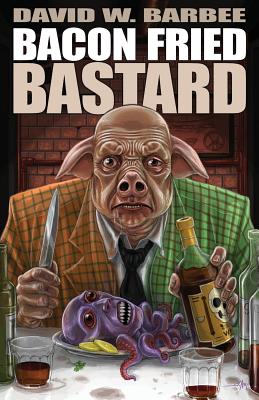 Bacon Fried Bastard (Paperback)
Eraserhead Press, 9781621052371, 146pp.
Publication Date: November 18, 2016
* Individual store prices may vary.
Description
He was just another man with a drinking problem. Only, alcohol transformed this man into a beastly hulk named Piggly Swiggly. And since he's always drunk, big and brutal Piggly has drowned his human half in a sea of booze.
After yet another rampaging bender, Piggly Swiggly awakes in a sprawling metropolis full of crocodile zeppelins, greasy bacon addicts, and worse: prohibition. Trapped in this strange tee-totaled town, he must keep his buzz going or else revert to his weak and vulnerable human form. But even then, Piggly Swiggly's depraved existence may prove his undoing, especially when gangsters are plotting to cut off his snout, a pig-loving is princess looking to steal his heart, and he must face the worst torture of all...sobriety.
Like a shit-faced Dr. Jekyll and Mr. Hyde, Bacon Fried Bastard is a brutal bizarro thriller of gangland violence, junkie romance, and alcoholic pork.