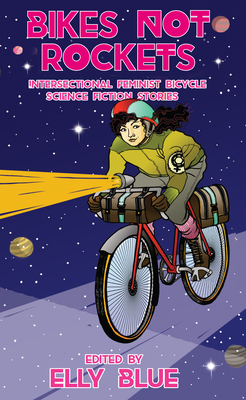 Bikes Not Rockets
Intersectional Feminist Bicycle Science Fiction Stories (Bikes in Space)
Paperback

* Individual store prices may vary.
Description
Newest installment of our feminist, science fiction anthology.

As you ride down the intergalactic bike path, you come to a crossroads. Which path will you take? Your choice could determine your future, or the future of all humanity, forever. These twelve stories explore a variety of intersections set in distant, outlandish, or disturbingly realistic futures and dimensions--all involving bicycles and the breaking of gender stereotypes. A bicycle race spans a rift between worlds. A teenager learns a valuable lesson from her prepper mom. A young fruit seller gets closer to her dream of becoming an astronaut. An overwhelmed mom finds unexpected solace at a bicycle collective. And more Contributors include Tuere T.S. Ganges, Gretchin Lair, Ayame Whitfield, Julia K. Patt, Elly Bangs, Osahon Ize-Iyamu, Monique Cuillerier, Lucie Towers, Kat Lerner, Hella Grichi, and Summer Jewel Keown, with illustrations by Elly Bangs and Paul Abbamondi.
Elly Blue Publishing, 9781621065432, 160pp.
Publication Date: December 4, 2018
About the Author
Elly Blue is a writer and bicycle activist living in Portland, Oregon. Her work has appeared in The Guardian, Grist, Bicycling Magazine online, Bitch Magazine, BikePortland, The Magazine, and Momentum, among other publications. She has been featured on Democracy Now!, in the Oregonian, and on Oregon Public Broadcasting. Along with Joe Biel, she is co-producer and director of Groundswell, a series of movies about people using bicycling to make their communities better and a co-owner of Microcosm Publishing.