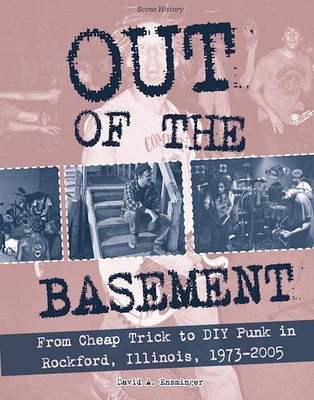 Out of the Basement
From Cheap Trick to DIY Punk in Rockford, Illinois, 1973-2005 (Scene History #3)
Paperback

* Individual store prices may vary.
Description
Out of the Basement tells the story of underground music (and mainstream rock that sometimes rose out of it) in post-industrial Rockford, Illinois. This is a bracing, candid, democratic, and cutting edge portrayal of a rust belt city full of rebel kids making DIY music despite the odds. It combines oral history, brutally honest memoir, music history, and a sense of blunt poetics to capture the ethos of life in the 1970s-2000s, long before the Internet made punk accessible to small towners. From dusty used record stores and frenetic skating rinks to dank basements and sweat-piled gigs to the radical forebears like the local IWW chapter, the book follows the stories of rebels struggling to find spaces and a sense of community and their place in underground history.

Microcosm Publishing, 9781621067665, 96pp.
Publication Date: February 14, 2017
About the Author
David A. Ensminger is a college instructor and the author of four books covering both American roots music and punk rock history -- Visual Vitriol: The Street Art and Subcultures of the Punk and Hardcore Generation (Univ. Press of Mississippi, 2011), Mojo Hand: The Life and Music of Lightnin' Hopkins (Univ. of Texas Press, 2013), Left of the Dial: Conversations with Punk Icons (PM Press, 2013), Mavericks of Sound: Conversations with the Artists Who Shaped Indie and Roots Music (Rowman and Littlefield, 2014), and The Politics of Punk (Rowman and Littlefield, Jan 2016). Both the Boston Globe and The Economist have highlighted his research; meanwhile, he writes for publications like Art in Print, the Journal of Popular Music Studies, Houston Press, Trust (Germany), Artcore (Britain), and Maximum Rock'n'Roll. He lives in Houston, TX.