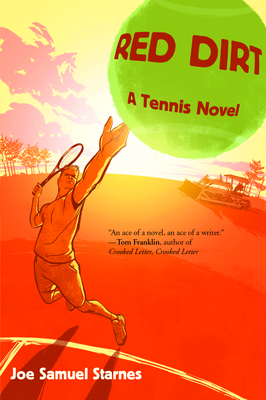 Red Dirt
A Tennis Novel
Paperback

* Individual store prices may vary.
Description
"The original redneck Rocky of tennis novels." --NoirCon "Comes with highest recommendation."
--Jon L. Wertheim, Tennis Channel and Sports Illustrated Red Dirt is the story of Jaxie Skinner, an unlikely professional tennis player from a blue-collar family in the sticks of rural Georgia who takes up the game at the age of three when his father scrapes a court out of the red clay behind their farmhouse. He is a natural, rising to the top of junior tennis, and at eighteen has great success at the French Open. He falls as quickly as he rose, however, when troubles back home and injuries arise. He quits the game for years, but then mounts a comeback, struggling for almost a decade in the unglamorous, low-paying minor leagues of tennis, often living out of his van, before getting one last big shot. A fascinating study of tennis, its demands and tactics, as well as a look at the insular and often selfish character required to reach the pinnacle of the sport. Red Dirt is the Rocky of tennis novels. "I enjoyed it immensely . . . a marvelous job of pivoting the plot and making it such a good story."
--Frank Deford, Sports Illustrated "A metaphor for life's vicissitudes and our own fleeting awareness."
--The Philadelphia Inquirer "A comeback worth cheering." --Atlanta Magazine

Breakaway Books, 9781621240150, 352pp.
Publication Date: April 7, 2015
About the Author
Joe Samuel Starnes's second novel, Fall Line, published in 2011 by NewSouth Books, was selected for the Atlanta Journal-Constitution's list "A Year in Reading: Best of the South." His first novel, Calling, was published by Jefferson Press in 2005. He has had journalism appear in the New York Times, Washington Post, and various magazines, as well as essays, short stories, and poems in literary journals and books. He holds a bachelor's degree in journalism from the University of Georgia, a master's degree in English from Rutgers University in Newark, and a master's of fine arts in creative nonfiction from Goucher College. A native of Cedartown, Georgia, he now lives in Haddon Township, New Jersey. He edits the alumni magazine for Widener University, and teaches writing at Widener, Rowan University, and Saint Joseph's University. He was awarded a fellowship to the 2006 Sewanee Writers' Conference. For more info, visit www.joesamuelstarnes.com.