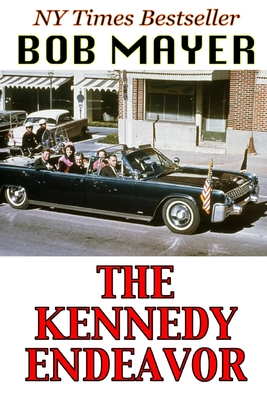 The Kennedy Endeavor (Papers of George Washington
Presidential #2)
Paperback

* Individual store prices may vary.
Description
"Today, every inhabitant of this planet must contemplate the day when this planet may no longer be habitable. Every man, woman and child lives under a nuclear Sword of Damocles, hanging by the slenderest of threads, capable of being cut at any moment by accident or miscalculation or by madness. The weapons of war must be abolished before they abolish us." John F. Kennedy
For 13 days in October 1962 the world came the closest to nuclear Armageddon. On 22 November 1963, President Kennedy was assassinated. On the 25th of November, as Kennedy's body lay in state at the Rotunda in Washington, Anastas Mikyoan, Khrushchev's top adviser, presented the Premier's condolences to Jacqueline Kennedy. She took Mikoyan's hand in both hers and told him: "I am sure that Chairman Khrushchev and my husband could have been successful in the search for peace, and they were really striving for that. Now the Chairman must continue the agreed upon endeavor and bring it to completion."
On 12 October 1964, a Washington socialite named Mary Meyer was shot in the back of the head and through the heart at point-blank range. She had been married to a high-ranking CIA agent. More importantly, she had been carrying on an affair with President John F. Kennedy and was one of his most trusted friends, at his side through the Bay of Pigs and the Cuban Missile Crisis.
On 13 October 1964, the day after Mary Meyer's murder, the Soviet Politburo forced Nikita Khrushchev to resign from power and put him under house arrest.
Today, Paul Ducharme and Evie Tolliver unveil a Fail Safe type scenario brokered by President Kennedy and Premier Khrushchev and race against time before the archaic Sword of Damocles initiates World War III.
Cool Gus Publishing, 9781621251149, 138pp.
Publication Date: December 8, 2013
About the Author
West Point Graduate, former Green Beret and NY Times bestselling author Bob Mayer has had over 50 books published. He has sold over five million books, and is in demand as a team-building, life-changing, and leadership speaker and consultant for his Who Dares Wins concept. He's been on bestseller lists in thriller, science fiction, suspense, action, war, historical fiction and is the only male author on the Romance Writers of America Honor Roll. Born in the Bronx, Bob attended West Point and earned a BA in psychology with honors and then served as an Infantry platoon leader, a battalion scout platoon leader, and a brigade recon platoon leader in the 1st Cavalry Division. He joined Special Forces and commanded a Green Beret A Team. He served as the operations officer for 2nd Battalion, 10th Special Forces Group (Airborne) and with Special Operations Command (Special Projects) in Hawaii. Later he taught at the Special Forces Qualification Course at the John F. Kennedy Special Warfare Center and School at Fort Bragg, the course which trains new Green Berets. He lived in Korea where he earned a Black Belt in Martial Arts. He's earned a Masters Degree in Education.