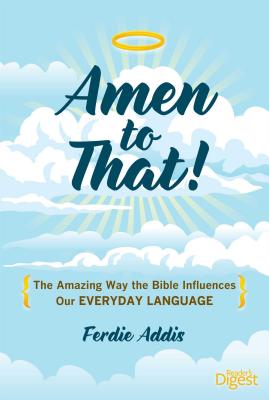 Amen to That! (Paperback)
The Amazing Way the Bible Influences Our Everyday Language
Reader's Digest Association, 9781621451075, 165pp.
Publication Date: October 17, 2013
* Individual store prices may vary.
Description
Whether or not you have ever read or studied the Bible,
Amen to That
references the best-selling book in the world from which people have been quoting for centuries and sheds light on the origins of everyday expressions and phrases we use today. Many of us have never read or studied the Bible, yet people have been quoting from its pages for centuries, not knowing the origin or significance of these timeless expressions. Let there be light
Amen to That
will delightfully shed clarity on how a collection of ancient stories, written in three languages over the course of a thousand years, has had such an impact on the way we speak today. Through intriguing stories and riveting tales of epic battles and acts of betrayal to miracles and beyond, you'll quickly discover the meanings behind such familiar phrases as:
A drop in the bucket
All things must pass
As old as the hills
Bite the dust
Eat, drink, and be merry
The powers that be
Woe is me
Amen to That
is a wonderful look at the gripping storytelling and cultural wealth to be found in the world's best-selling book, as well as a fascinating insight into our language.
About the Author
Ferdie Addis has loved classics since he first got his hands on a picture-book version of the Odyssey at age four. He earned a degree in Greek and Latin from Oxford University and later did a brief stint as a researcher for TV documentaries, but his first love is reading and writing. Some of his recent books for RD include Opening Pandora's Box and I Dare Say.
or
Not Currently Available for Direct Purchase