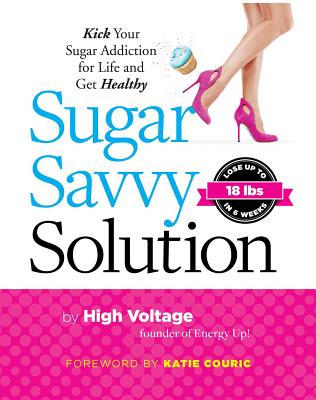 Sugar Savvy Solution (Paperback)
Kick Your Sugar Addiction for Life and Get Healthy
Reader's Digest Association, 9781621452676, 288pp.
Publication Date: October 6, 2015
* Individual store prices may vary.
Description
A fun and empowering 6-week program to getting your weight down and energy up by getting sugar savvy and resetting your taste buds and your attitude, from the founder of Energy Up , High Voltage. Unleash your inner girl power to take control of food so it doesn't control you. Can't eat just one? Yeah. There's a reason for that. New science shows that when we overload on sugar our brain receptors actually change, making it hard to regulate how much we eat. Sugar is addictive. It lights up the same reward receptors and triggers the same cascade of feel-good brain chemicals like serotonin and dopamine as cocaine. And when you're shaky, irritable and looking for your next food "fix," you may not even realize it--but you're hooked. Like all of us, you just want to feel good and have energy for all the activities you do and love. But the foods you're counting on to get you there inevitably make you feel worse...not to mention lead to obesity, heart disease, diabetes, wrinkled skin (truly), and even cancer. Enough It's time to take control of your health and happiness. To take control of your weight. To take control of food so it doesn't control you. To get your energy up in a real, sustainable way. To get Fit, Fabulous, and Fierce. Sugar Savvy is the solution. Based on the groundbreaking "Energy Up" program created by Kathie Dolgin (aka High Voltage), proven in a 2007 Columbia University Medical Center study to help participants lose an average of 13 pounds, the Sugar Savvy solution is more than a diet. It's an eye-opening, confidence-building, life-affirming program that literally and scientifically helps remap your brain chemistry to change what you crave and want to eat. It's a plan that will empower you from the top down and inside out. Sugar Savvy includes: - a complete 6-week plan to transform your eating and exercise habits - easy-to-assemble Power Meal Formulas plus more than 40 simple Power Meals and Snacks you can use to eat Sugar Savvy anywhere - Moving Affirmations that move your body and your spirit - inspirational stories and advice from the 17 Sugar Savvy Sisters who tried our program, every single one of whom lost weight - and much more This one-of-a-kind plan beats obesity where it begins--in your brain. The Sugar Savvy motto: Eat whatever you want, but we will change what you want. Guaranteed "Obesity is a critical public health issue, and sugar is a major reason. Sugar Savvy is a straightforward, easy-to-follow guide to help people avoid the serious health effects of consuming too much sugar. It has the potential to be a powerful tool for its readers."
--Michael Bloomberg "Science is just now catching up to what High Voltage figured out years ago: Breaking your sugar addiction isn't about willpower, it's about brain chemistry. Follow her innovative Sugar Savvy program to change what you crave, lose weight, and beat disease "
--Mark Hyman, MD, author of The Blood Sugar Solution 10-Day Detox Diet "Sugar Savvy sizzles with High Voltage's remarkable ability to motivate and excite I couldn't put it down. What a fantastic resource for women who are ready to go for it and finally detox from sugar and remake their bodies. I give it a 10 "
--Kathleen DesMaisons, PhD, bestselling author of Potatoes Not Prozac "Many thanks to High Voltage for not 'sugar-coating' the fact that excess sugar makes us fat and sick. This simple 6-week program to eliminate added sugar is dynamite and I plan to share it with my patients ASAP."
--Joel K. Kahn, MD, Clinical Professor of Medicine, Wayne State University School of Medicine and author of The Holistic Heart Book "Sugar Savvy is destined to become a classic Not only will you break your addiction to sugar, white flour, bad fats, and salt, you'll transform your body, mind, and spirit to forever change the way you think about food."
--Ann Louise Gittleman, Ph.D., CNS, New York Times bestselling author of The Fat Flush Plan and Get the Sugar Out.
or
Not Currently Available for Direct Purchase