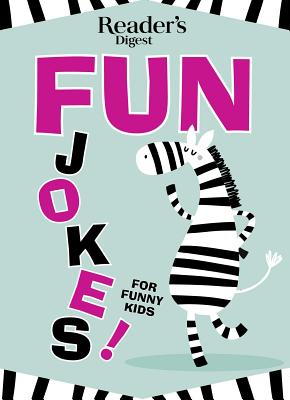 Reader's Digest Fun Jokes for Funny Kids
Paperback

* Individual store prices may vary.
Other Editions of This Title:
Paperback (9/22/2020)
Paperback (11/5/2019)
Description
Where does a king keep his armies?...

...In his sleevies!

Do you have a budding comedian on your hands? Loaded with Knock Knock jokes, riddles, one-liners, tongue twisters and puns, Fun Jokes for Funny Kids will give them hours of new material that will keep kids ages 6-12 rolling in laughter.

Knock Knock jokes, riddles, tongue twisters and puns guaranteed to make your kids (and you) laugh out loud. Also includes illustrations and cartoons for extra giggles.

Alexa's Favorites Icon--Alexa is a 2nd grader from New York. She has picked out a few of her favorites from each chapter.

Knock Knock.

...Who's there?

Boo hoo!

...Boo hoo who?

Aww, don't cry--it's just a joke!

Knock Knock.

...Who's there?

Olive.

...Olive who?

Olive you and I don't care who knows it!

What do you call an old snowman?

...Water!

Which dinosaur knew the most words?

...The thesaurus!

What do you call a fish with no eyes?

...fsh!

What do you call an alligator in a vest? An investigator!

How do turtles talk to each other? By using shell phones!

Why are teddy bears never hungry? They are always stuffed!

Why did the spider go to the computer? To check his web site.

Where do polar bears vote? The North Poll.


Reader's Digest, 9781621454380, 128pp.
Publication Date: July 2, 2019
About the Author
Reader's Digest magazine is the #1 collector of humor around the world. The Reader's Digest Association, Inc. is a global multi-brand media company that educates, entertains and connects audiences around the world. It publishes 92 magazines, including 50 editions of Reader's digest, the world's largest paid-circulation magazine. With a rate base of 5.5 million and more than 32 million readers, Reader's digest is the largest magazine in the country.