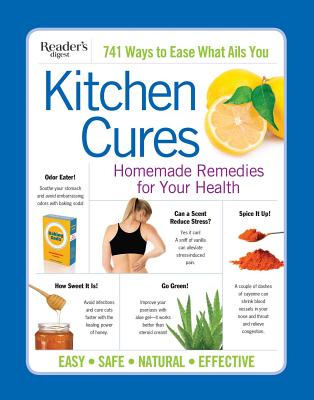 Reader's Digest Kitchen Cures (Paperback)
Homemade Remedies for Your Health
Reader's Digest, 9781621454779, 256pp.
Publication Date: March 3, 2020
* Individual store prices may vary.
Description
Practice natural health and healing the modern way with more than 740 of the world's best home remedies—cures that work using ingredients located right in your kitchen cabinet.



Did you know that chewing gum can prevent ear infections? That green tea can erase pimples? That olive oil can lower cholesterol levels? Research continues to reveal new and more effective ways to use hundreds of timeless kitchen staples for health
and healing—in much the same way our grandparentsonce did. Kitchen Cures provides you with hundreds of these proven remedies of yesteryear, helping you to save money, save time, and heal faster and more safely.
About the Author
Recognized by 99% of American adults, Reader's Digest puts true stories, trusted advice, and family-friendly humor right at your fingertips.