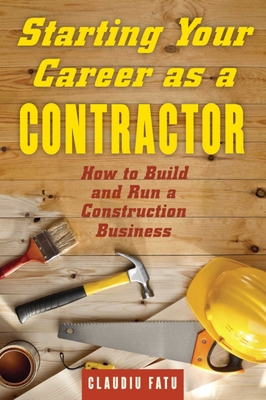 Starting Your Career as a Contractor
How to Build and Run a Construction Business
Paperback

* Individual store prices may vary.
Description
This incisive, practical guide provides a thorough breakdown of the ins and outs everyone needs to know when turning contracting skills into a business, from summoning the motivation to start your own business to the intricacies of being your own boss,
Claudiu Fatu turns his personal experiences and those of other successful contractors into advice on every aspect of building a business. The chapters focus on:
Developing a business structure, including bank accounts, tax registration, insurance, and branding
Handling legal and accounting hurdles
Managing employees and dealing with clients
Using marketing systems to find and book work
Estimating and bidding on jobs
Writing contracts
Creating invoices and a billing system
Controlling costs, keeping records, and understanding profit margin
Planning retirement and other benefits for the self-employed
By teaching contractors to anticipate problems that can arise when dealing with clients, and to build a business plan that can support a contractor's talents in the best way possible,
Starting Your Career as a Contractor
is the ultimate manual to getting the job done right!
Allworth Press, an imprint of Skyhorse Publishing, publishes a broad range of books on the visual and performing arts, with emphasis on the business of art. Our titles cover subjects such as graphic design, theater, branding, fine art, photography, interior design, writing, acting, film, how to start careers, business and legal forms, business practices, and more. While we don't aspire to publish a
New York Times
bestseller or a national bestseller, we are deeply committed to quality books that help creative professionals succeed and thrive. We often publish in areas overlooked by other publishers and welcome the author whose expertise can help our audience of readers.
Allworth, 9781621534587, 224pp.
Publication Date: March 17, 2015
About the Author
Claudiu Fatu has been passionate about handiwork his entire life and is the sole owner of FATU Inc. Construction. He is a US Army combat veteran, and he worked on Wall Street before the market downturn in 2008. He currently lives and works as a contractor in New York City.