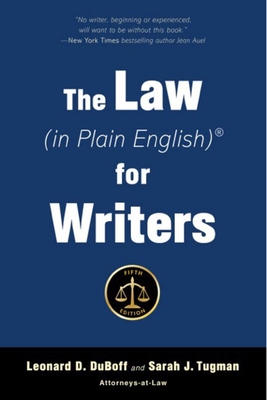 The Law (in Plain English) for Writers (Fifth Edition) (Paperback)
Allworth Press, 9781621536284, 272pp.
Publication Date: April 3, 2018
* Individual store prices may vary.
Description
A career as a writer involves much more than the act of writing itself. In
The Law (in Plain English)? for Writers, Fifth Edition
, Leonard DuBoff and Sarah Tugman proffer invaluable advice for the myriad legal and business facets of being a writer. Readers will discover how to succeed in every area affecting a writer's livelihood, such as submissions, dealing with agents, taxes, permissions, royalties, alternatives to mainstream publishers, copyright, book and magazine contracts, and how to prevent disputes.
This newly revised edition, keeping up with the changing legal landscape, contains information on a variety of legal issues pertinent to writers of all types, including:
Updated coverage on issues such as how to avoid trouble posed by the interplay between the right to free speech, privacy, and defamation law Changes in the copyright law, procedures, and recent cases on copyright protection and infringement Updated and revised chapters on the business of writing New and updated Internet resources
For writers of all levels, this comprehensive resource is the key to turning a writing career into a sustainable livelihood.
About the Author
Leonard D. DuBoff is the founder of the DuBoff Law Group, PC. He graduated magna cum laude from Hofstra University with a degree in engineering and summa cum laude from Brooklyn Law School, where he was the research editor of the Brooklyn Law Review. He was a professor of law for almost a quarter of a century, teaching first at Stanford Law School and then at Lewis & Clark Law School in Portland, Oregon. He lives in Portland, Oregon. Sarah J. Tugman graduated from Mount Holyoke College in South Hadley, Massachusetts, and magna cum laude from Lewis & Clark Law School in Portland, Oregon. She has maintained a private civil practice for the past thirty-three years in Anchorage, Alaska, and she is of counsel to the DuBoff Law Group. She is the coauthor, with Leonard D. DuBoff, of several books in the Law (in Plain English) series. She lives in Anchorage, Alaska.