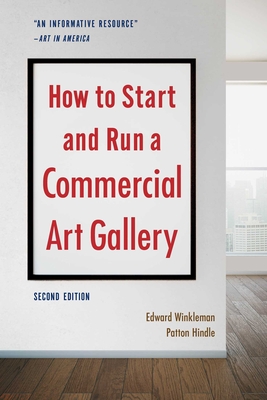 How to Start and Run a Commercial Art Gallery (Second Edition) (Paperback)
Allworth Press, 9781621536567, 304pp.
Publication Date: November 13, 2018
* Individual store prices may vary.
Description
"A comprehensive reference for any gallery owner." --Leigh Conner, director, Conner Contemporary Art Aspiring and new art gallery owners can find everything they need to plan and operate a successful art gallery with How to Start and Run a Commercial Art Gallery. This new edition has been updated to mark the changes in market and technology over the past decade. Edward Winkleman and Patton Hindle draw on their years of experience to explain step by step how to start your new venture. From finding the ideal locale and renovating the space to writing business plans and securing start-up capital, this helpful guide has it all. Chapters detail how to: Manage cash flow Grow your new business Hire and manage staff Attract and retain artists and clients Represent your artists Promote your gallery and artists online Select the right art fair And more How to Start and Run a Commercial Art Gallery, Second Edition, also includes sample forms, helpful tips from veteran collectors and dealers, a large section on art fairs, and a directory of art dealer associations.
About the Author
Edward Winkleman cofounded Plus Ultra Gallery in the Williamsburg district of Brooklyn, New York, in 2001. He was a founding member and the first president of the Williamsburg Gallery Association and an early member of the New Art Dealers Alliance. Moving into Manhattan's gallery district in Chelsea in 2006, he changed the name of the gallery to Winkleman Gallery. With Murat Orozobekov, he cofounded Moving Image, the video and film art fair that has taken place in New York, London, and Istanbul. Today he is a private art dealer in New York City and co-author of How to Start and Run a Commercial Art Gallery, as well as author of Selling Contemporary Art: How to Navigate the Evolving Market. Patton Hindle is a principal and founder of yours mine & ours gallery in the Lower East Side. She is also the director of arts at Kickstarter, where she oversees the Arts and Performance Arts team. Hindle was previously the director of gallery and institutional partnerships at Artspace. Hindle came to New York as the director of DODGEgallery, a Lower East Side program that she helped open and run. She was raised in London and attended university in Boston, Massachusetts.