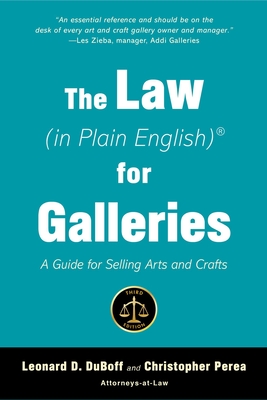 The Law (in Plain English) for Galleries (Paperback)
A Guide for Selling Arts and Crafts
Allworth, 9781621536789, 336pp.
Publication Date: June 16, 2020
* Individual store prices may vary.
Description
An Essential Reference for Sellers of Arts and Crafts
In
The Law (in Plain English)® for Galleries
, Third Edition, Leonard DuBoff and Christopher Perea walk readers through the legal intricacies of selling arts and crafts. This helpful guide provides clear explanations and examples of real cases to furnish readers with a strong understanding of their obligations and vulnerabilities. Updated to reflect recent changes in the market and technology, this new edition is the go-to guide for all aspects of running a gallery. Chapters cover a wide range of topics, including:
Organizing a business
Franchising
Working with employees and contractors
Selling pieces
Contracts
Artists' and galleries' rights
Catalogs and online sales
Copyright and trademark
Customer relations
Product liability
Filing taxes
Estate planning
Gallerists, artists, craftspeople, and anyone else interested in the buying and selling of arts and crafts must have this book in their libraries.
About the Author
Leonard D. DuBoff is the founder of the DuBoff Law Group, PC. He graduated magna cum laude from Hofstra University with a degree in engineering and summa cum laude from Brooklyn Law School, where he was the research editor of the Brooklyn Law Review. He was a professor of law for almost a quarter of a century, teaching first at Stanford Law School and then at Lewis & Clark Law School in Portland, Oregon. He lives in Portland, Oregon.

Christopher Perea graduated from Cornell University, where he majored in English literature and history. While attending Willamette Law School, he worked in both the Deschutes County General Counsel's office and the Marion County District Attorney's office. Chris has assisted his father, a prominent labor arbitrator, with employment arbitrations for a significant amount of time. He lives in Portland, Oregon.
Praise For The Law (in Plain English) for Galleries: A Guide for Selling Arts and Crafts…
"Leonard DuBoff and his co-author Christopher Perea are masters at demystifying the legal issues faced daily by art and craft galleries. From setting up a business to drafting and analyzing contracts, registering your work, the rights of marketing, sales, and much more, The Law (in Plain English)® for Galleries is an essential reference and should be on the desk of every art and craft gallery owner and manager." —Les Zieba, manager, Addi Galleries, Las Vegas, San Francisco, Honolulu
 
"While gallery owners and staff are some of the most sophisticated and astute individuals in the world of the arts and crafts, we all need some legal and technical advice in order to conduct successful businesses. With colleague Christopher Perea, the widely recognized arts attorney Leonard DuBoff has produced such a book. The Law (in Plain English)® for Galleries is as essential a publication for gallery owners as any reference they might have about artists, exhibit spaces, or markets." —Chet Orloff, director and president, Museum of the City, and manager, Pamplin International Collection of Art and History
 
"The ideal legal resource for every new and experienced art gallery and craft shop owner! From his extensive career as an expert art law attorney, Leonard DuBoff and his knowledgeable co-author, Christopher Perea, present an easy-to-understand, thorough yet concise, and extremely well-written treatment of the legal concerns art gallery and craft shop owners must know to operate with integrity and excellence. This book should be in every art gallery and craft shop owner's library. Highly recommended!" —Carolyn Butters, president, Butters Gallery, Portland, Oregon
 
"The Law (in Plain English)® for Galleries is a must-read for artists and galleries alike. The author, Leonard D. DuBoff, has represented galleries, craft shops, as well as the creative people whose work they handle, for decades. This book guides creative people as well as gallery and craft shop owners in navigating the legal aspects of the art industry, and in avoiding common pitfalls. I found it enlightening and very easy to read, and recommend it to everyone in the art and craft business." —Caroline Young, world-class artist
 
"I have been working with artists for over twenty-five years now and I find this book to be a valuable source of information. Navigating the art world is not easy, and this book will help artists, publishers, and those wanting to understand copyright law." —Ruth-Ann Thorn, Crown Thorn Publishing, Inc.
or
Not Currently Available for Direct Purchase