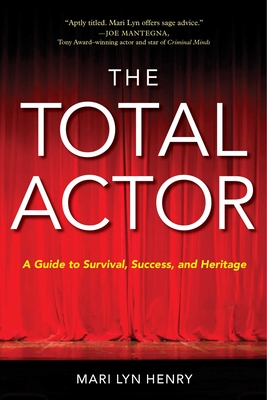 The Total Actor (Hardcover)
A Guide to Survival, Success, and Heritage
Allworth, 9781621537069, 192pp.
Publication Date: June 2, 2020
* Individual store prices may vary.
Description
"Mari Lyn offers sage advice." —Joe Mantegna, Tony Award–winning actor and star of Criminal Minds

How to Build an Acting Career and Thrive on Stage
The Total Actor
is filled with advice on everything a theater actor needs, from preparing for a career on the stage and auditioning to continued growth and exploration. In this honest reexamination of the actor's journey, veteran actor, casting executive, talent manager, image consultant, and theater historian, Mari Lyn Henry, takes readers on a tour of the craft's rich history and its transformation over the centuries. Profiles of great figures in theater and their contributions to developing the profession, acting styles, and teaching methods provide invaluable lessons to modern actors.
Offering an insider's guide on pathways to success and achieving professional longevity, Henry's approach is best described in her own words: "The most important part of any career is preparation, which is connected to career intelligence, investigation, research, having a plan, and importantly, believing in your talent." Enlightening chapters prepare readers for every challenge and obstacle along the way with topics such as:
An appreciation of the history of theater
Learning to stand on the shoulders of acting giants
Exploring the call to acting
The importance of training
Marketing skills
Managing self-image
Preparing a resume and cover note
Interview etiquette
Tips for successful auditions
Achieving success and staying power
And much more
Sprinkled throughout the chapters are thought-provoking questionnaires, designed to examine the reader's strengths and define abilities, lifestyle preferences, and survival strategies between engagements. Every actor, whether just starting out or already established, will benefit from Henry's hard-won and heartfelt advice as she educates, uplifts, entertains, and shares her own experiences, alongside inspiring quotes and anecdotes of stars past and present.  
About the Author
Mari Lyn Henry, teacher, author, actor, and theatre historian, founded the Society for the Preservation of Theatrical History to reacquaint today's actors with the great actresses and visionaries of the nineteenth and early twentieth centuries. Her workshops and seminars on "The Biz of the Biz," have been very successful and are based on five editions of How to Be a Working Actor, which she coauthored. The League of Professional Theatre Women honored her with a Special Theatre Women Award in 2019 for her contributions to the entertainment industry. She currently resides in New York City.
Praise For The Total Actor: A Guide to Survival, Success, and Heritage…
"Mari Lyn's new book is aptly titled. Getting a job in the entertainment industry is one thing; creating a successful life-long career is something else entirely. Once again Mari Lyn offers sage advice as to how to best make that a reality." —Joe Mantegna, Tony Award–winning actor and star of Criminal Minds

"Nothing can compare with the advice and knowledge from Mari Lyn Henry who has been an industry pro in the trenches for four decades. Her vetted knowledge for achieving success is well worth noting at any age and her dedication to our heritage is awe-inspiring." —Denise Pence, Emmy Award nominee, The Guiding Light; Broadway actress, Pippin and Follies; marketing and public relations manager, History Alive

"Mari Lyn Henry's guide, The Total Actor, comprises an incredible volume of practical information gleaned from her vast experience in the theatrical profession. I can readily confirm the great assistance she has provided over the years to our students in the pursuit of their career goals." —E. Colin O'Leary, executive director, Circle in the Square Theatre School

"Mari Lyn Henry's connection with artists of the past is communicated eloquently. This is a profound game changer for the modern actor." —Karen Eterovich, actress, writer, and producer of solo shows about Jane Austen, Aphra Behn, and Fanny Kemble

"Invaluable insights for the serious actor from a dedicated and knowledgeable pro." —Lucien Douglas, associate professor of acting, University of Texas at Austin

"Thorough in-depth info from a veteran industry professional on the survival of actors in show business." —Margaret Emory, author, Ask an Agent

"The Total Actor is a 'must have' for all actors from students to veterans. It is invaluable in content, accessibility, and flair." —Johanna Morrison, professor of theatre, The Hartt School at University of Hartford

"An entertainment industry powerhouse, Mari Lyn Henry engages the reader with her wit and wisdom and highlights the legacies of creative trailblazers. This guide has everything an artist needs to be a 'total actor.' Brava!" —Lorca Peress, president and founding artistic director, MultiStages, and teacher, NYU Tisch School and Lee Strasberg Institute

"Mari Lyn shares her wisdom from decades of experience and success. Enlightening tips and treats, inspirational advice." —Jacklyn Zeman, actress, television, and radio host

"A must-have book for actors, directors, and teachers, with an overview of heritage and application of the practices and training of the art and craft of acting!" —Janice Orlandi, artistic director, Actors Movement Studio, and faculty member, HB Studio NYC

"Mari Lyn is a powerful force in the industry, dedicated to preserving theatre history and educating actors about the journey to survival and success. Her love and passion for the theatre is incomparable." —Katie McHugh, artistic director, Yonder Window Theatre Company

"The Total Actor imparts important information to young actors, especially in the area of digital dependency which can lead to problems with the learning skills crucial for success. Her section on heritage, featuring a history of nineteenth- and early twentieth–century actors impressed me the most and is a delight to read. As a theatre historian, I encourage all actors to get this book!" —Dr. Helen Huff, professor, City University of New York

"I am excited about The Total Actor; I am sure it will be a hit. Mari Lyn Henry has made such a mark in the industry, and many people will benefit from her wisdom." —Fred Salancy, theater and fundraising consultant

"The Total Actor: A Guide to Survival, Success, and Heritage shines a welcome light on the other side of the casting process, places the lantern firmly in the actors' hands, and with good humor, guides their attention to the history which led them to where they stand. Mari Lyn's care for actors and love of the art makes the book less like a guide and more like a friend." —Judith Feingold, director and actor, The John DeSotelle Acting Studio