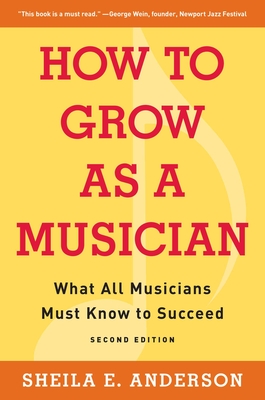 How to Grow as a Musician
What All Musicians Must Know to Succeed
Paperback

* Individual store prices may vary.
Description
A Friendly Guide to Launching and Maintaining Your Musical Career
It's tough to make a living from one's love of music, but Sheila E. Anderson shows readers how to do just that in
How to Grow as a Musician
. This encouraging yet realistic guide covers everything from developing and learning one's craft to managing the business aspects of a musical career. This second edition expands on performance tips, self-promotion tactics, and steps to improve one's networking skills to make fruitful connections. Anderson shares her insights as well as practical advice from successful musicians and other industry professionals on topics such as:
Composing and recording
Understanding and negotiating contracts
Putting on a performance
Getting and keeping gigs
Utilizing social media
And more
How to Grow as a Musician
is packed with candid views on everything from overcoming failure to the art of writing a song to doing that all-important ego check. Whether they're just getting started or have been in the business for years, all musicians will reap the rewards of this thoughtful career guide.
Praise For How to Grow as a Musician: What All Musicians Must Know to Succeed…
"How to Grow as a Musician by jazz champion, radio host, and bon vivant, Sheila Anderson is a literal life manual for the musician aspiring to a fulfilling career in jazz. With anecdotes and interviews with some of the most compelling jazz storytellers on the scene today—like Tia Fuller, Etienne Charles, Allan Harris, and Will Calhoun—and legends in the genre—like Ron Carter, Randy Weston, Al Jarreau, and Dr. Billy Taylor—Anderson shares the truth and experience in their voice and sound. This is all accomplished with warmth in her nurturing voice, while still providing nuts and bolts, 'steps 1, 2, 3,' for the musician that wants instructions on the business of jazz. [. . .] I also recommend How to Grow as a Musician for anyone that loves this music we call jazz to understand how to better support the musicians. In the words of my favorite jazz vocalist, Al Jarreau, as quoted in the book, 'You should always be reaching, striving for another level.' Thank you, Sheila Anderson, for taking us to another level of understanding with How to Grow as a Musician." —Janis Burley Wilson, president and CEO, August Wilson Center

"From the ancestors' spirited knowledge to persevering jazz musicians' experienced scenarios, this book is an obligatory read for all musicians and creative artists looking to cultivate new sprouts for their growing careers." —Ron Scott, columnist, Amsterdam News 

"For that performer who is trying to succeed in this business we call show, you need to get Sheila Anderson's book. How to Grow as a Musician will get you around, across, over or through any obstacle, hiccup, bump or uncertainty that may be in the way." —Wali Collins, author and comedian, Coyote Ugly, I Hate Valentine's Day

"This book is a must-have for any serious student and will be a joy to read by jazz fans generally. Combining a warm conversational style with the voices of musicians who provide direct, hands-on experience, it manages to be both a very practical guide and fascinating look at the music business through the eyes and words of a cross-section of accomplished musicians. Highly recommended!" —Wayne Winborne, executive director, Institute of Jazz Studies at Rutgers University 

"This book is a must read for every aspiring musician and music fans alike. Proficient musicianship is steeped in solid practice habits, fortitude, and perseverance. Sheila exposes the fantasy that preparation can be taken lightly." —George Wein, CEO, Festival Productions, Inc.

"Read this book to become a BAADASSSS. Sheila Anderson has told it like it is." —Melvin Van Peebles, filmmaker

"Sheila Anderson is a living legend in the world of jazz radio whose vision, wisdom, and knowledge are astonishing. Don't miss this book!" —Cornel West, professor emeritus, Princeton University

"How to Grow as a Musician is both intelligent and comprehensive. Ms. Anderson offers an insightful and timely roadmap for one's career." —Gregory Generet, jazz vocalist
Allworth, 9781621537168, 264pp.
Publication Date: November 5, 2019
About the Author
Sheila E. Anderson is an on-air personality on WBGO, Newark, 88.3 FM—the most popular jazz station in the country—and hosts Weekend Jazz After Hours, Salon Sessions, and the Sunday Night Music Mix. She currently curates the Jazz in the Garden series for the Newark Museum and the Central Jersey Jazz Festival. Anderson graduated from Baruch College with a bachelor of arts degree in English. She lectures on jazz history and is a Columbia University Community Scholar. She lives in New York City.