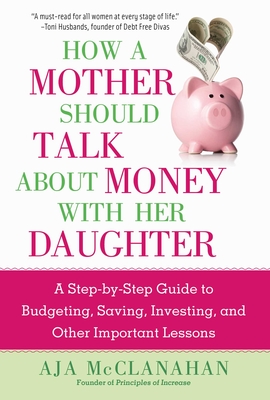 How a Mother Should Talk About Money with Her Daughter
A Step-by-Step Guide to Budgeting, Saving, Investing, and Other Important Lessons
Hardcover

* Individual store prices may vary.
Description
A Guide to Talking Finances with Our Daughters!
As many as 56% of women feel that they'd rather not talk about money with their loved ones. Some women say they were raised not to discuss money and others feel like the information is just too personal. Yet with many women controlling household budgets and raising the next generation of female earners, this could be a recipe for disaster in some homes and for society at large.

How a Mother Should Talk About Money with Her Daughter helps readers broach money topics with their daughters in a meaningful, compassionate, and even fun way. It speaks to parents who may feel inadequate about their own money skills but still want to discuss money with their daughters while helping them build good financial habits. The goal is to start conversations that leave parents and girls empowered to love themselves (through good money management) and make the world a better place with their financial resources. Topics include how to save as a young person, the pros and cons of investing, how to determine which college is right (in terms of finances and future job prospects), how to determine a future partner is right (in terms of similar financial goals), and more.
Praise For How a Mother Should Talk About Money with Her Daughter: A Step-by-Step Guide to Budgeting, Saving, Investing, and Other Important Lessons…
"Readers will be inspired by McClanahan's own story and will here gain ideas for discussing the oft-taboo topic of money with their daughters." —Library Journal

"Aja McClanahan is shining a much-needed light on a topic that has been taboo for too long. This compelling conversation starter is a must-read for all women at every stage of life. Let's talk about money and keep the Money Conversation going with our daughters and everyone important in your life!" —Toni Husbands, founder of Debt Free Divas

"Through Aja's personal story, she's able to share her financial journey and inspire others to break the taboo around money and empower a younger generation of women. This book shares practical ways to get the conversation around money started with your daughter." —Melanie Lockert, author of Dear Debt and Lola Retreat organizer

"This is a must-read for parents and mentors! Aja has done an incredible job breaking down not only what and how to talk to your daughter about finances, but also how to overcome our own hesitations and fears. If we want to open up more opportunities for our daughters, we have to help them create a healthy and holistic view of money, where they can enrich themselves and others." —Elle Martinez, creator of the award-winning site Couple Money and author of Jumpstart Your Marriage and Your Money

"McClanahan compassionately builds up her readers with the knowledge and self-confidence they need to be money mentors to their daughters. With heart, numbers, and narratives, she leaves no stone unturned as she guides mothers through the process of raising a generation of financially secure and savvy women." —Brynne Conroy, author of The Feminist Financial Handbook

"Worried about having 'the money talk'? In How a Mother Should Talk About Money with Her Daughter, Aja will show you that great money discussions aren't as complicated as you may think. That's why I loved this book. Even if you struggle personally, Aja takes your hand and guides you through every situation so you can, in turn, can be a great guide for your daughter." —Joe Saul-Sehy, creator and co-host of the Stacking Benjamins podcast
 
Allworth, 9781621537427, 216pp.
Publication Date: March 3, 2020
About the Author
Aja McClanahan is an author, blogger, and speaker on personal finance and entrepreneurship. Her personal experiences with debt inspired her to start a blog, Principles of Increase, about money and create a platform to help people talk about their finances. Aja's writing has been featured in Business Insider, the Huffington Post, and many other publications. In 2018, she participated in a Tedx Talk called "Money Conversations with Our Daughters." Aja lives with her husband and two daughters.
or
Not Currently Available for Direct Purchase