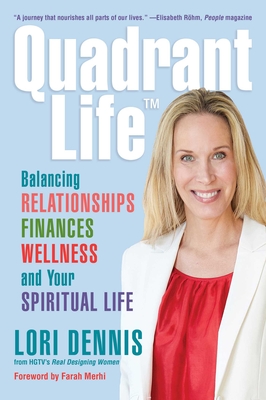 Quadrant Life
Balancing Relationships, Finances, Wellness, and Your Spiritual Life
Hardcover

* Individual store prices may vary.
Description
A Map to the Four Cornerstones of a Fulfilling Life
Award-winning designer and author Lori Dennis shares her secrets to balancing the four most important areas of our lives: relationships, finances, wellness, and spirituality. Learning to make these quadrants cooperate in harmony yields real results, including meaningful work, a successful love life, decreased anxiety, better sleep, positive interactions with others, and a general sense of happiness and serenity.
From the decision to be happy to grounding reality checks and realistic goal setting, Dennis walks readers through the process of assessing and aligning our aspirations and daily habits to create a productive, satisfying life. She challenges readers: "If you're not happy, it's time to ask yourself why and address the parts of your life that need work. What's been getting in the way of your happiness until now? What part of your life is being neglected or missing altogether?" In this accessible guide, Dennis focuses her philosophy on the following areas:
Part One: Relationships examines how we interact with everyone in our lives (romantic partners, family members, friends, coworkers, and new acquaintances), how to recognize unhealthy patterns, and how to create the kinds of connections that enrich and positively challenge us.
Part Two: Finances discusses wealth goals, career choices, consumerism, money management, and tips for controlling debt.
Part Three: Wellness elaborates on how stress, diet, and exercise all play a role in the general health of our physical, mental, and spiritual being.
Part Four: Spirituality identifies the benefits of striving for a sense of awareness, possibility, love, and gratitude.
With
Quadrant Life
in their back pockets, readers will have the knowledge and practical techniques to pursue the life they've always dreamed of.
Praise For Quadrant Life: Balancing Relationships, Finances, Wellness, and Your Spiritual Life…
"Balance is hard to achieve, I know first-hand. But not impossible. In a world where most are struggling to fully be present in every aspect of their lives, whether personal or professional, Lori shows us how it can be achieved. Opening up and sharing her personal experiences, Lori leaves us feeling inspired. A must-read, filled with hope, and a gentle reminder that one should focus on self-love above all." —Farah Merhi, bestselling author, mega influencer, and CEO of Inspire Me! Home Decor
 
"Quadrant Life is your easy-to-follow guide for finding fulfillment in today's modern, chaotic world." —Brian Wendel, founder and president of Forks Over Knives
 
"A wonderful, easy read. It gives one a good feeling—that you can conquer the world. A good book to read when you need something to pick you up. Highly recommend and am awaiting future books by this talented author." —Stephen J. Kramer, MD, FAPA, psychiatrist, CEO Fabre-Kramer Pharmaceuticals
 
"To succeed in life, we must experience balance. In this gentle and easy read, Lori has captured the essence of how to move past the roadblocks in our lives to unlock and enjoy our full potential. She leads us through a safe path of self-recognition, on a journey that nourishes all parts of our lives, allowing us to tap into our limitless power." —Elisabeth Röhm, writer, People magazine, and award-winning actress, Law & Order
Allworth, 9781621537441, 216pp.
Publication Date: February 18, 2020
About the Author
Lori Dennis, LEED AP, is an HGTV celebrity, TED speaker, and influencer in the design and organic lifestyle space who has been featured in a wide variety of publications around the world, from the Wall Street Journal, Architectural Digest, and the New York Times to Woman's Day and Coastal Living. She has appeared on HGTV, OWN, Bravo, Food Network, NBC, and Oxygen. The founder of an award-winning interior architecture firm specializing in sustainability, she authored the book Green Interior Design. Lori speaks at corporate, university, and trade events around the world. She lives in Los Angeles with her husband and daughter.
or
Not Currently Available for Direct Purchase