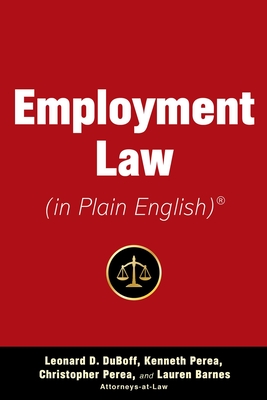 Employment Law (in Plain English)
Paperback

* Individual store prices may vary.
Description
Employment Law (in Plain English)®
provides both employers and employees the information they need in order to understand the law as it relates to their working relationship. This helpful guide will enable readers to identify and prevent many of the issues which can and do occur in the employment context, thus saving everyone valuable time and money and establishing a stronger workforce. While this book is not intended to replace the reader's employment lawyer, it will provide the ability to assist one's lawyer in litigation should the need arise. Chapters discuss a variety of topics including:
Advertising for new positions and vacancies
Interviewing, hiring, and other pre-employment considerations
Employment contracts
Union shops
Collective bargaining agreements
Employee handbooks
First day on the job
Wages hours and other terms and conditions of employment
On-the-job rights and responsibilities
Employee dignity, privacy, and reputation
Ownership of work created by employees
Private employment versus public employment
Internet concerns
Virtual offices
Employees versus independent contractor statutes
Discipline and termination of the employment relationship
Dispute resolution
Fringe benefits
How to find a lawyer
In easy-to-understand terms and with plenty of examples, this essential handbook supplies readers with invaluable insights on the legal nature of their working relationships.
Allworth, 9781621537670, 336pp.
Publication Date: January 26, 2021
About the Author
Leonard D. DuBoff is the founder of the DuBoff Law Group, PC, and an internationally recognized expert who has lectured on legal issues throughout the world. He graduated magna cum laude from Hofstra University with a degree in engineering and summa cum laude from Brooklyn Law School, where he was the research editor of the Brooklyn Law Review. He was a professor of law for almost a quarter of a century, teaching first at Stanford Law School and then at Lewis & Clark Law School. He lives in Portland, Oregon.

Kenneth Perea graduated from the University of San Francisco School of Law and served as an intelligence officer in the US Army in 1973-1974. Afterward, Ken began practicing law in San Diego as in-house counsel for a large public entity which included serving as management counsel in a number of labor-management disputes with its employees.  During his more than 38 years' service as a full-time impartial arbitrator of labor management disputes, Ken has authored several thousand binding arbitration awards in every imaginable industry in America. He is a co-author of Absenteeism in the Workplace and an editor of Discipline and Discharge, First Edition.

Christopher Perea graduated from Cornell University where he majored in English Literature and History. While attending Willamette University College of Law, he worked in both the Deschutes County General Counsel's office and the Marion County District Attorney's office. Chris has assisted his father, a prominent labor arbitrator, with employment arbitrations for a significant amount of time. He is a co-author of The Law (in Plain English)® for Galleries and a practicing attorney with the DuBoff Law Group, PC, where he handles cases of kinds, including many related to employment law.

Lauren Barnes is an attorney in Portland, Oregon, where her practice focuses on personal injury law. She graduated from Colorado State University in 2013 with a BA in International Studies and Political Science. Barnes graduated from Willamette University College of Law in 2017, where she was a student assistant for legal research and writing, vice president of the Moot Court Board, and an executive editor for the Willamette Journal of International Law and Dispute Resolution.