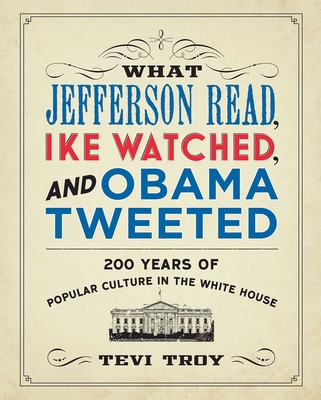 What Jefferson Read, Ike Watched, and Obama Tweeted
200 Years of Popular Culture in the White House
Paperback

* Individual store prices may vary.
Description
From Cicero to Snooki, the cultural influences on our American presidents are powerful and plentiful. Thomas Jefferson famously said "I cannot live without books," and his library backed up the claim, later becoming the backbone of the new Library of Congress. Jimmy Carter watched hundreds of movies in his White House, while Ronald Reagan starred in a few in his own time. Lincoln was a theater-goer, while Obama kicked back at home to a few episodes of HBO's "The Wire."

America is a country built by thinkers on a foundation of ideas. Alongside classic works of philosophy and ethics, however, our presidents have been influenced by the books, movies, TV shows, viral videos, and social media sensations of their day. In What Jefferson Read, Ike Watched, and Obama Tweeted: 200 Years of Popular Culturen in the White House presidential scholar and former White House aide Tevi Troy combines research with witty observation to tell the story of how our presidents have been shaped by popular culture.
Regnery History, 9781621570394, 416pp.
Publication Date: September 2, 2013
About the Author
TEVI TROY, Ph.D., is a bestselling author, presidential historian, and a frequent television and radio analyst, appearing on CNN, Fox News, Fox Business, CNBC, C-SPAN, and PBS NewsHour, among other outlets. Dr. Troy also has extensive White House experience, having served in several high-level positions over a five-year period, culminating in his service as Deputy Assistant and then Acting Assistant to the President for Domestic Policy. He is the author of Shall We Wake the President?, a history of presidents dealing with disasters, which made three best-of-the-year lists in 2016. His 2013 book, What Jefferson Read, Ike Watched, and Obama Tweeted: 200 Years of Popular Culture in the White House, was a Washington Post bestseller. Dr. Troy has a B.S. in Industrial and Labor Relations from Cornell University and an M.A and Ph.D. in American Civilization from the University of Texas at Austin. He lives in Maryland with his wife, Kami, and their four children.
or
Not Currently Available for Direct Purchase