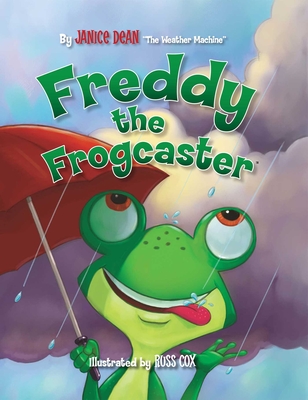 Freddy the Frogcaster (Hardcover)
Regnery Kids, 9781621570844, 40pp.
Publication Date: August 26, 2013
Description
Freddy the Frog loves learning about the weather, and he's known for having the best predictions in town. But what happens when the town picnic is almost ruined by a storm that catches the local frogcaster by surprise? Freddie has to step in to save the day Well-known Fox News broadcast meteorologist Janice Dean pens this exciting and hilarious tale about an aspiring weathercaster who can't keep his eyes off the sky. Children and adults will love the charming frog world Freddy lives in, and the fun science lessons he shares, with an activities section in the back

About the Author
Known as "Janice Dean the Weather Queen," Janice Dean has been predicting the weather on Fox News Channel and Fox Business Network since 2004. She is a trained meteorologist and she loves to share her scientific knowledge, and the inspiration that led to her passion for weather, with kids and adults alike. Before Fox, she had a long career working at various radio and TV stations as a DJ, anchor, and host.

Russ Cox is an award-winning illustrator and animator, and founder of Smiling Otis Studio. His illustrations have won first-place in the Published, People's Choice, and Emerging Artist categories at the New England The Society of Children's Book Writers and Illustrators conference. He lives in Maine with his wife, their four cats, and a banjo.
Advertisement