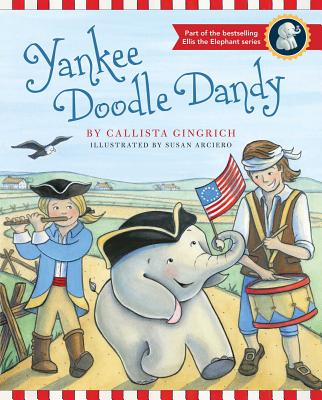 Yankee Doodle Dandy (Ellis the Elephant #3)
Hardcover

* Individual store prices may vary.
Description
Ellis the Elephant dives back into history! In Yankee Doodle Dandy, the third installment of this New York Times bestselling series, America's favorite time traveling pachyderm is back, teaching kids (and parents!) about the American Revolution.

In Sweet Land of Liberty and Land of the Pilgrims' Pride, Ellis the Elephant explored pivotal moments that shaped American history. Now Ellis is back, and eager to learn about America's most beloved patriots and their courageous fight for independence. Traveling through time, Ellis the Elephant encounters the Sons of Liberty, Patrick Henry, Paul Revere, the Founding Fathers, Betsy Ross, and more.

Authored by Callista Gingrich and illustrated by Susan Arciero, Yankee Doodle Dandy educates and entertains as Ellis the Elephant experiences the American Revolution. With beautiful illustrations and charming rhymes, Yankee Doodle Dandy is a must read for young and old alike who want to know how America became a free and independent nation.
Regnery Kids, 9781621570875, 40pp.
Publication Date: October 7, 2013
About the Author
Callista Gingrich is the New York Times bestselling author of Sweet Land of Liberty and Land of the Pilgrims' Pride, a children's series featuring Ellis the Elephant. She is also president of Gingrich Productions, a multimedia company which produces historical and public policy documentaries. Recent films include Nine Days That Changed the World and A City Upon A Hill. Callista is married to former Speaker of the House, Newt Gingrich. Together they reside in McLean, Virginia. Susan Arciero is the illustrator of numerous children's books, including Sweet Land of Liberty; Land of the Pilgrims' Pride; Nat, Nat the Nantucket Cat; and Cornelius Vandermouse. Growing up in Massachusetts and traveling the world as a military family, including ten years in Washington, D.C. made researching these illustrations even more captivating and inspiring. She lives in Pinehurst, North Carolina, with her husband, three children, and two Basset Hounds.