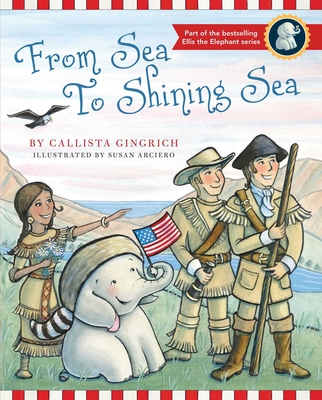 From Sea to Shining Sea (Ellis the Elephant #4)
Hardcover

* Individual store prices may vary.
Description
Ellis the Elephant is back and ready for another adventure in American history! In From Sea to Shining Sea, the fourth installment of Callista Gingrich's New York Times bestselling series, Ellis explores the early years of the United States and heads west into uncharted territory with Lewis and Clark.

In previous books, Sweet Land of Liberty, Land of the Pilgrims' Pride, and Yankee Doodle Dandy, Ellis learned about pivotal moments that have shaped America. Now, in From Sea to Shining Sea, America's favorite time-traveling pachyderm discovers a new and growing nation along with George Washington, Thomas Jefferson, Lewis and Clark, Sacagawea and others.

Authored by Callista Gingrich and illustrated by Susan Arciero, From Sea to Shining Sea will delight those who want to know how brave Americans forged a growing nation and spread freedom from coast to coast.
Regnery Kids, 9781621572534, 40pp.
Publication Date: October 13, 2014
About the Author
Callista Gingrich is the New York Times bestselling author of Sweet Land of Liberty and Land of the Pilgrims' Pride, a children's series featuring Ellis the Elephant. She is also president of Gingrich Productions, a multimedia company which produces historical and public policy documentaries. Recent films include Nine Days That Changed the World and A City Upon A Hill. Callista is married to former Speaker of the House, Newt Gingrich. Together they reside in McLean, Virginia. Susan Arciero is the illustrator of numerous children's books, including Sweet Land of Liberty; Land of the Pilgrims' Pride; Nat, Nat the Nantucket Cat; and Cornelius Vandermouse. Growing up in Massachusetts and traveling the world as a military family, including ten years in Washington, D.C. made researching these illustrations even more captivating and inspiring. She lives in Pinehurst, North Carolina, with her husband, three children, and two Basset Hounds.