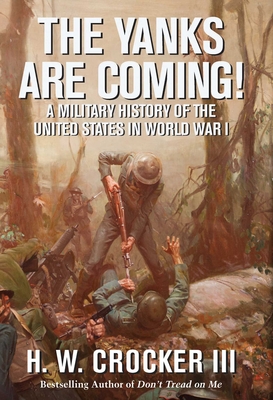 The Yanks Are Coming! (Hardcover)
A Military History of the United States in World War I
Regnery History, 9781621572626, 404pp.
Publication Date: September 22, 2014
* Individual store prices may vary.
Description
Bestselling military historian H. W. Crocker III (The Politically Incorrect Guide to the Civil War, Robert E. Lee on Leadership, etc.) now turns his guns on the epic story of America's involvement in the First World War with his new book The Yanks Are Coming: A Military History of the United States in World War I.

2014 marks the centenary of the beginning of that war, and in Crocker's sweeping, American-focused account, readers will learn:

How George S. Patton, Douglas MacArthur, George C. Marshall (of the Marshall Plan), "Wild Bill" Donovan (future founder of the OSS, the World War II precursor to the CIA), Harry S. Truman, and many other American heroes earned their military spurs in "The Great War"
Why, despite the efforts of the almost absurdly pacifistic administration of Woodrow Wilson, American involvement in the war was inevitable
How the First World War was "the War that Made the Modern World"—sweeping away most of the crowned heads of Europe, redrawing the map of the Middle East, setting the stage for the rise of communism and fascism
Why the First World War marked America's transition from a frontier power—some of our World War I generals had actually fought Indians—to a global superpower, with World War I generals like Douglas MacArthur living to see, and help shape, the nuclear age
"The Young Lions of the War" -- heroes who should not be forgotten, like air ace Eddie Rickenbacker, Sergeant Alvin York (memorably portrayed by Gary Cooper in the Academy Award–winning movie Sergeant York), and all four of Theodore Roosevelt's sons (one of whom was killed)

Stirring, and full of brilliantly told stories of men at war, The Yanks Are Coming will be the essential book for readers interested in rediscovering America's role in the First World War on its hundredth anniversary.
About the Author
H. W. Crocker III is the bestselling author of many books on military history, including Don't Tread on Me, Robert E. Lee on Leadership, The Politically Incorrect Guide to the Civil War, The Politically Incorrect Guide to the British Empire, and the prize-winning comic novel The Old Limey. His journalism has appeared in National Review, the American Spectator, the Washington Times, and many other outlets. Born and raised in San Diego, CA, Crocker currently lives on the site of a former Confederate encampment in Virginia.