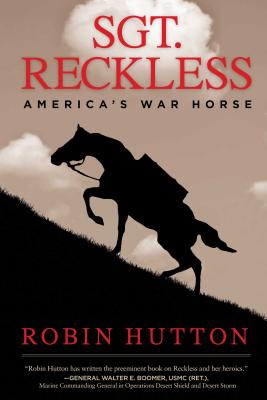 Sgt. Reckless (Hardcover)
America's War Horse
Regnery History, 9781621572633, 368pp.
Publication Date: July 28, 2014
Other Editions of This Title:
Digital Audiobook (7/27/2014)
Paperback (8/10/2015)
Pre-Recorded Audio Player (9/1/2014)
Compact Disc (7/28/2014)
MP3 CD (7/28/2014)
Compact Disc (7/28/2014)
* Individual store prices may vary.
Description
New York Times Bestseller!

From the racetrack to the battlefield—dauntless, fearless, and exemplar of Semper Fi—she was Reckless, "pride of the Marines."

A Mongolian mare who was bred to be a racehorse, Ah-Chim-Hai, or Flame-of-the-Morning, belonged to a young boy named Kim-Huk-Moon. In order to pay for a prosthetic leg for his sister, Kim made the difficult decision to sell his beloved companion. Lieutenant Eric Pedersen purchased the bodacious mare and renamed her Reckless, for the Recoilless Rifles Platoon, Anti-Tank Division, of the 5th Marines she'd be joining.

The four-legged equine braved minefields and hailing shrapnel to deliver ammunition to her division on the frontlines. In one day alone, performing fifty-one trips up and down treacherous terrain, covering a distance of over thirty-five miles, and rescuing wounded comrades-in-arms, Reckless demonstrated her steadfast devotion to the Marines who had become her herd.

Despite only measuring about thirteen hands high, this pint-sized equine became an American hero. Reckless was awarded two Purple Hearts for her valor and was officially promoted to staff sergeant twice, a distinction never bestowed upon an animal before or since.

Author Robin Hutton has reignited excitement about this nearly forgotten legend, realizing the Sgt. Reckless Memorial Monument at the National Museum of the Marine Corps, completed in July 2013, and now spurring the creation of a second memorial at Camp Pendleton, California, where Reckless lived out the rest of her days.
About the Author
Robin Hutton is currently the president of Angels Without Wings, Inc., a 501(c)3 non-profit corporation that spearheaded the development and dedication of a national memorial to Sgt. Reckless. The monument was dedicated at the National Museum of the Marine Corps on Friday, July 26, 2013, and an exhibit inside the museum was also opened at that time. A second monument is planned for Camp Pendleton to be dedicated at a later date, as well as one in South Korea.

Hutton was recently named "Patriotic Citizen of the Year" by the local chapter of the Military Order of the World Wars and the Military Order of the Purple Heart for her charitable work. She was awarded that honor at the Ronald Reagan Library in June 2014.

Hutton has spent her adult life working in major event productions and the motion picture business. She has been the writing partner of Tom Laughlin (the legend of Billy Jack fame) for the last thirty years, and is co-author of The 9 Indispensable Ingredients in Every Hit Film, TV Show, Play and Novel. Hutton currently lives in Santa Rosa Valley (Camarillo), CA.