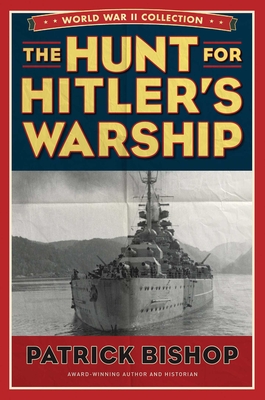 The Hunt for Hitler's Warship (World War II Collection) (Paperback)
Regnery History, 9781621572909, 416pp.
Publication Date: May 4, 2015
Other Editions of This Title:
Hardcover (4/8/2013)
* Individual store prices may vary.
Description
Winston Churchill called it "the Beast." It was said to be unsinkable. More than thirty military operations failed to destroy it. Eliminating the Tirpitz, Hitler's mightiest warship, a 52,000-ton behemoth, became an Allied obsession.

In The Hunt for Hitler's Warship, Patrick Bishop tells the epic story of the men who would not rest until the Tirpitz lay at the bottom of the sea. In November of 1944, with the threat to Russian supply lines increasing and Allied forces needing reinforcements in the Pacific, a raid as audacious as any Royal Air Force operation of the war was launched, under the command of one of Britain's greatest but least-known war heroes, Wing Commander Willie Tait.

Patrick Bishop draws on decades of experience as a foreign war correspondent to paint a vivid picture of this historic clash of the Royal Air Force's Davids versus Hitler's Goliath of naval engineering. Readers will not be able to put down this account of one of World War II's most dramatic showdowns.
About the Author
Patrick Bishop has emerged in the last decade as one of Britain's best-regarded military historians with his books Fighter Boys and Bomber Boys, which cast a new light on the men who flew in the Battle of Britain and the Strategic Air Campaign. He has also led the field in contemporary accounts of the experiences of British troops fighting in southern Afghanistan. His 3 Para told the story of the initial break-in battle in Helmand in 2006 and won the British Army Military Book of the Year Award. He joined the Paras on their return to southern Afghanistan in 2008 and produced a sequel, Ground Truth. His writing is underpinned by first-hand knowledge of warfare gained during a long career as a foreign correspondent. He has followed British soldiers on almost all their deployments of the last thirty years from the Falklands to Afghanistan. He is also the author of two novels, A Good War and Follow Me Home, which has been described as 'the first great novel of the Afghan war.'(Major Chris Hunter).
or
Not Currently Available for Direct Purchase