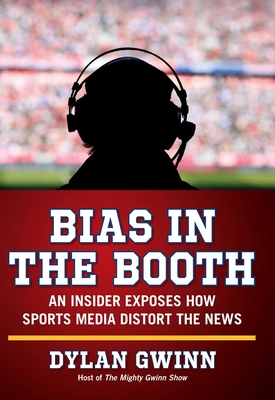 Bias in the Booth (Hardcover)
An Insider Exposes How the Sports Media Distort the News
Regnery Publishing, 9781621573319, 272pp.
Publication Date: March 2, 2015
* Individual store prices may vary.
Description
Most of us see sports as a welcome—even blessed—relief from the challenges and frustrations of everyday life. We want to sit back, open a beer, and enjoy the game.

But many of those who bring us the game have a different agenda—they use their broadcasting platform to harangue us with their own politically correct preoccupations. If a seventh-round NFL draft pick who can't make the team or an over-the-hill basketball player declares that he's gay, he gets wall-to-wall media coverage and is hailed as a hero. If a stripper accuses college lacrosse players of rape, liberal sports reporters lead the lynch mob—with no apologies when the bearers of "white privilege" are proved innocent.

In his blistering new book Bias in the Booth, sports reporter and commentator Dylan Gwinn takes you inside the sports media spin machine to reveal what they hope you won't notice: the sports media are no different from the news and entertainment media.
About the Author
Dylan Gwinn, a veteran sports talk radio personality, covered the Houston Astros as a clubhouse reporter. His show, The Mighty Gwinn Show, airs on Yahoo! Sports Radio. He writes frequently for many outlets, including Breitbart and American Thinker. A veteran of the U.S. Army and the New York Fire Department, he lives with his family in Houston.