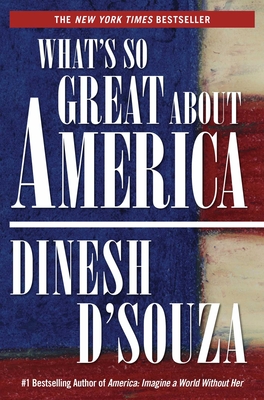 What's So Great About America (Paperback)
Regnery Publishing, 9781621574026, 218pp.
Publication Date: June 1, 2015
Other Editions of This Title:
Hardcover (3/25/2002)
Audio Cassette (1/1/2003)
Compact Disc (10/1/2002)
* Individual store prices may vary.
Description
With What's So Great About America, Dinesh D'Souza is not asking a question, but making a statement. The former White House policy analyst and bestselling author argues that in the aftermath of September 11, 2001, American ideals and patriotism should not be things we shy away from. Instead he offers the grounds for a solid, well-considered pride in the Western pillars of "science, democracy and capitalism," while deconstructing arguments from both the political Left and political Right. As an "outsider" from India who has had amazing success in the United States, D'Souza defends not an idealized America, but America as it really is, and measures America not against an utopian ideal, but against the rest of the world in a provocative, challenging, and personal book.
About the Author
Dinesh D'Souza is the former president of The King's College in New York City and author of the New York Times bestsellers America: Imagine a World Without Her, Obama's America, and The Roots of Obama's Rage. He is also a former White House domestic policy analyst and research scholar at the American Enterprise Institute and the Hoover Institution at Stanford University. His other best-selling books include What's So Great About Christianity and Life After Death.