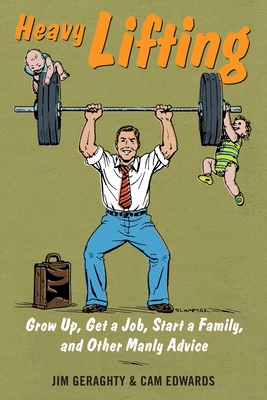 Heavy Lifting (Hardcover)
Grow Up, Get a Job, Raise a Family, and Other Manly Advice
Regnery Publishing, 9781621574149, 256pp.
Publication Date: October 26, 2015
* Individual store prices may vary.
Description
What has happened to men in America? Once upon a time, men in their twenties looked forward to settling down and having children. Today, most young men seem infected by a widespread Peter Pan syndrome. Unwilling to give up the freedom to sleep late, play video games, dress like a slob, and play the field, today's men wallow in an extended adolescence, ostensibly unaware that they're setting themselves up for a depressing, lonely existence.

In this hilarious ode to male adulthood, Jim Geraghty and Cam Edwards—two happily married, 40-year-old men—have a simple message for their younger peers: Grow up!
About the Author
Jim Geraghty is a conservative blogger and contributing editor at National Review. He publishes the popular National Review Online blog "The Campaign Spot" and runs the "Morning Jolt" newsletter, which has around 400,000 subscribers. He is also the author of Voting to Kill: How 9/11 Launched the Era of Republican Leadership. Cam Edwards hosts "Cam & Company," a three-hour radio/web show from NRA News available on Sportsman Channel, SiriusXM Satellite Radio, NRANews.com, IHeartRadio, and iTunes, with a daily audience reach of 100,000+. His "Cam's Corner" column appears monthly in America's First Freedom magazine, with a circulation of 545,000. This is his first book.
or
Not Currently Available for Direct Purchase