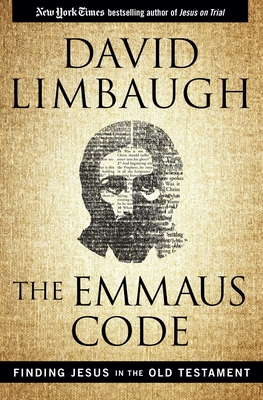 The Emmaus Code (Hardcover)
Finding Jesus in the Old Testament
Regnery Publishing, 9781621574156, 420pp.
Publication Date: November 9, 2015
* Individual store prices may vary.
Description
A New York Times Bestseller!

In the 2014 New York Times bestseller Jesus on Trial, David Limbaugh made a case for the Gospels as hard evidence of the existence of God, drawing on his own spiritual journey from skeptic to believer. Now, in The Emmaus Code, Limbaugh unlocks the mysteries of the Old Testament and reveals hints of Jesus Christ's arrival through all thirty-nine Old Testament books.

The key to the secrets of the Old Testament, Limbaugh argues, is the crucial New Testament encounter between the risen Jesus and two travelers on the road to Emmaus. With that key, and with Limbaugh as a deft guide, readers of The Emmaus Code will come to a startling new understanding of the Old Testament as a clear and powerful heralding of Jesus Christ's arrival. Limbaugh takes readers on a revealing journey from Genesis through Malachi, demonstrating that a consistent message courses through every one of the Old Testament's thirty-nine books: the power, wonder, and everlasting love of Jesus Christ.
About the Author
David Limbaugh is a lawyer, nationally syndicated columnist with Creators Syndicate, political commentator, and author of six New York Times bestsellers including Jesus on Trial and the #1 bestseller Crimes Against Liberty. The brother of radio talk show host Rush Limbaugh, he lives in Cape Girardeau, Missouri, with his wife and children.