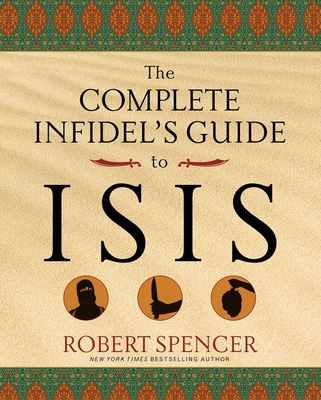 The Complete Infidel's Guide to ISIS (Complete Infidel's Guides) (Paperback)
Regnery Publishing, 9781621574538, 384pp.
Publication Date: August 24, 2015
* Individual store prices may vary.
Description
ISIS rocketed onto the world stage seemingly out of nowhere, beheading American hostages, bulldozing international borders, routing the American-trained Iraqi Army, and carving out a new state that rules eight million people. Now, after the shocking San Bernardino and Paris attacks, it has become devastatingly clear that no one is safe from the threat of ISIS. The group has managed to radicalize and recruit Muslims all over the world and is staging an all-out "holy war" against the West, while U.S. leaders remain stumped. In The Complete Infidel's Guide to ISIS, New York Times bestselling author Robert Spencer reveals the terrifying inner workings of the Islamic State--its successful recruitment program, how it is financing its expansion, and the ideology that is driving its success. As Spencer explains, the Islamic State has taken the first steps on the path to becoming a serious world power--steps that Osama bin Laden and al-Qaeda dreamed of but were afraid to take. The Complete Infidel's Guide to ISIS is your one-stop easy reference for all you need to know about ISIS--including how "infidels" can stop its reign of terror.
About the Author
Robert Spencer is the director of Jihad Watch, a program of the David Horowitz Freedom Center, and the author of fourteen books, including two New York Times bestsellers, The Truth About Muhammad and The Politically Incorrect Guide to Islam (and the Crusades). Spencer has led seminars on Islam and jihad for the FBI, the Joint Terrorism Task Force, United States Central Command, and other intelligence and military groups.