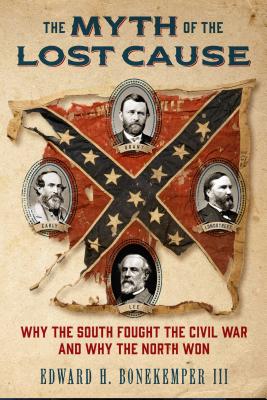 The Myth of the Lost Cause (Hardcover)
Why the South Fought the Civil War and Why the North Won
Regnery History, 9781621574545, 352pp.
Publication Date: October 5, 2015
* Individual store prices may vary.
Description
The former Confederate states have continually mythologized the South's defeat to the North, depicting the Civil War as unnecessary, or as a fight over states' Constitutional rights, or as a David v. Goliath struggle in which the North waged "total war" over an underdog South. In The Myth of the Lost Cause, historian Edward Bonekemper deconstructs this multi-faceted myth, revealing the truth about the war that nearly tore the nation apart 150 years ago.
About the Author
Edward H. Bonekemper III, author of six Civil War books, is the former Book Review Editor of Civil War News and a former adjunct lecturer in military history at Muhlenberg College. He earned a B.A. cum laude in American history from Muhlenberg College, an M.A. in American history from Old Dominion University, and a J.D. from Yale Law School. His prior Civil War books include Lincoln and Grant, Grant and Lee, McClellan and Failure, Incompetence and Worse, Ulysses S. Grant: A Victor, Not a Butcher, and How Robert E. Lee Lost the Civil War. Bonekemper is a frequent speaker at Civil War Roundtables (Houston, Chicago, Milwaukee, New York, Washington, LA, San Francisco, San Diego, Seattle, Scottsdale, Atlanta, Philadelphia, Baltimore, Wilmington, Brunswick, St. Louis, Pittsburgh) and other groups. He has been a guest speaker at the Smithsonian Institution ten times, the Chautauqua Institute, the Delta Queen, the Lincoln Group of Washington, and other prestigious organizations. He served as a Federal Government attorney-manager for over 34 years, including 11 years on active duty with the U.S. Coast Guard. He is a retired Commander, U.S. Coast Guard Reserve.