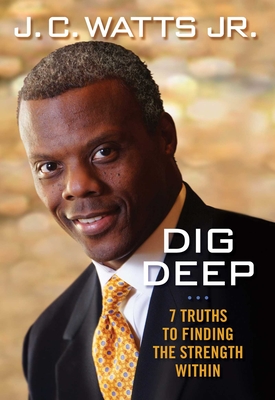 Dig Deep (Hardcover)
7 Truths to Finding the Strength Within
Salem Books, 9781621574606, 240pp.
Publication Date: March 7, 2016
* Individual store prices may vary.
Description
In Dig Deep, J.C. Watts offers seven powerful maxims that have kept him grounded throughout his roller-coaster career from star college quarterback to U.S. Congressman. The first black Republican ever elected to a leadership position in Congress, Watts resisted the rat-race of Washington and eventually declined re-election. His seven simple principles are a blueprint for living a fulfilling and meaningful life without falling to the temptations of reckless ambition or indulgence. Dig Deep is a powerful, simple guide that will help readers find the courage and faith to live the best life possible.
About the Author
After quarterbacking the University of Oklahoma Sooners to two Orange Bowl championships and starring in the Canadian Football League, J. C. WATTS JR. became the first African American elected to statewide office in Oklahoma and later served four terms in the U.S. Congress, rising to the chairmanship of the Republican Conference and authoring the legislation for President George W. Bush's faith-based initiative. A former youth pastor and the son of a pastor, Watts is the founder and chairman of Watts Partners, a government affairs firm in Washington, owns John Deere dealerships in Texas, and is president of Feed the Children in Oklahoma City. His previous book is the autobiography What Color Is a Conservative? My Life and My Politics. The father of six children, Watts lives with his wife, Frankie, in Fairfax, Virginia.
or
Not Currently Available for Direct Purchase