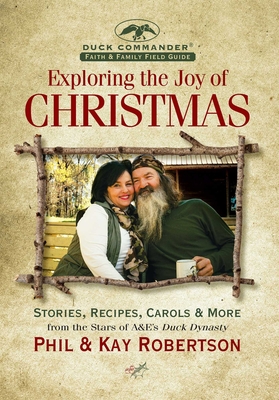 Exploring the Joy of Christmas (Hardcover)
A Duck Commander Faith and Family Field Guide: Stories, Recipes, Carols & More
Salem Books, 9781621574811, 112pp.
Publication Date: November 23, 2015
* Individual store prices may vary.
Description
Miss Kay and Phil Robertson introduce readers to Duck Commander holiday traditions with this quintessential Christmas Field Guide Savor a genuine feast of memories, mistletoe and misfires that Miss Kay and Phil have experienced over the years--including that Christmas Eve their house almost burned down. Discover: Redneck stocking stuffer ideas
Lyrics to a dozen Christmas carols
Miss Kay's Raging Cajun recipes
The Robertsons' favorite Christmas movies with discussion questions
The scripture text of the Christmas story
A week of Christmas family devotions ...and so much more.
About the Author
Phil Robertson is the founder of the Duck Commander Company, a multimillion dollar business currently headed by Phil's son Willie. He and his family are the stars of A&E's hit reality television show Duck Dynasty. Phil is the bestselling author of Happy, Happy, Happy: My Life and Legacy as the Duck Commander. Kay Robertson, known as Miss Kay, is Phil's wife and the beloved matriarch of the Duck Dynasty clan. She is the bestselling author of Miss Kay's Duck Commander Kitchen.