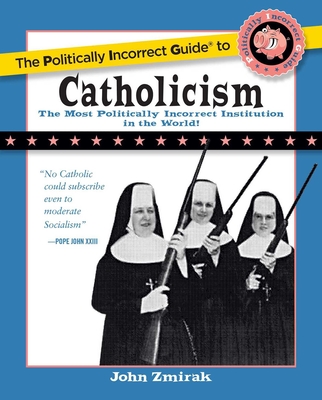 The Politically Incorrect Guide to Catholicism (Politically Incorrect Guides) (Paperback)
Regnery Publishing, 9781621575863, 256pp.
Publication Date: September 26, 2016
* Individual store prices may vary.
Description
Back by popular demand, the bestselling Politically Incorrect Guides provide an unvarnished, unapologetic overview of controversial topics every American should understand. The Politically Incorrect Guide to Catholicism refutes misrepresentations and misconceptions about the Catholic Church and separates rumor from truth when it comes to Catholic traditions, faith, and controversial leaders.
About the Author
John Zmirak is an editor, college teacher, screenwriter, and political columnist. He is author of the popular Bad Catholic's Guides, Wilhelm Röpke, and The Race to Save Our Century: Five Core Principles to Promote Peace, Freedom, and a Culture Of Life. His essays, poems, and other works have appeared in First Things, The Weekly Standard, The Atlanta Journal-Constitution, USA Today, FrontPage Magazine, The American Conservative, The South Carolina Review, Modern Age, The Intercollegiate Review, Commonweal, and The National Catholic Register, among other venues; and he has contributed to The Encyclopedia of Catholic Social Thought and American Conservatism: An Encyclopedia. He edited a number of popular guides to higher education and served as press secretary to Louisiana Governor Mike Foster. His columns are archived at www.badcatholics.com.