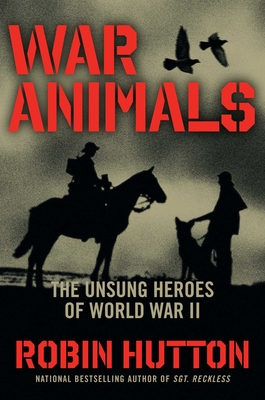 War Animals (Hardcover)
The Unsung Heroes of World War II
Regnery History, 9781621576587, 466pp.
Publication Date: September 18, 2018
* Individual store prices may vary.
Description
Meet the forgotten members of the Greatest Generation.

Today, war is a high-tech affair. The modern soldier relies on advanced weapons and communications technology as his essential support. But in World War II, soldiers relied on an entirely different kind of support—a kind of support soldiers have used since ancient times. Animals.

Dogs, horses, and pigeons became World War II soldiers' best friends in battle, serving to carry weapons, wounded men, and messages through artillery fire. In War Animals, bestsellling author Robin Hutton brings the animal heroes of World War II to vivid life with the heroic true tales of:

• Famed pigeon G.I. Joe, who saved an Italian village and British troops by flying 20 miles in 20 minutes to carry a message to Allied forces;

• Chips, a German Shepherd trained as a sentry who attacked an Italian machine gun team, sustaining powder burns and saving his handler's life;

• Bing, a paradog who jumped out of a plane on D-Day, landed in a tree, and once on the ground helped his handlers locate the enemy.

A heartwarming and sometimes even hilarious history of bonafide heroes of feather and fur, War Animals is a World War II story you've never read before.
About the Author
Robin Hutton has spent her adult life working in major event productions and the motion picture business. She is the author of Sgt Reckless: America's War Horse, a national bestseller that received a starred review in Publishers Weekly.

She is president of Angels Without Wings, Inc., a 501(c)3 non-profit corporation that spearheaded the development and dedication of a national memorial to hero horse Sgt. Reckless. The monument was dedicated at the National Museum of the Marine Corps on Friday, July 26, 2013, and an exhibit inside the museum was also opened at that time. A second monument is planned for Camp Pendleton to be dedicated at a later date, as well as one in South Korea.

Hutton was named "Patriotic Citizen of the Year" by the local chapter of the Military Order of the World Wars and the Military Order of the Purple Heart for her charitable work. She will be awarded that honor at the Ronald Reagan Library in June 2014. Hutton currently lives in Santa Rosa Valley (Camarillo), CA.
Praise For War Animals: The Unsung Heroes of World War II…
"I can't think of another author who has done more to honor the animals of war than Robin Hutton. In War Animals, she brings to life the forgotten stories of countless brave military heroes—heroes with wings, hooves, and paws, whose bravery and sacrifice should never be forgotten. Hutton brings her sharp eye, careful research, and lively writing style to honor our anima friends who fought alongside their human partners. This book will delight both animal lovers and military buffs!"
— Elizabeth Letts, bestselling author of The Eighty-Dollar Champion and The Perfect Horse

"Robin Hutton has performed above and beyond the call of duty in gathering these incredible stories of service animals during wartime into one handy volume. These dogs, horses and birds (plus one amazing cat!) show over and over that bravery, dedication, and loyalty aren't just human traits. Every page brings another marvel."
— Robert Weintraub, author of No Better Friend: One Man, One Dog, and Their Extraordinary Story of Courage and Survival in WWII

"With a sense of humor and attention to historical detail and context, author Robin Hutton brings stories of animal warriors to the pages of War Animals. Readers who think they know their World War II history will discover new facts. Animal fanciers will delight in the tales of smart brave dogs and other critters pressed into military service—and maybe shed a tear or two. And we have increased respect for the handlers who worked with these talented animals on the home front, in the Pacific, and in Europe. A great read!"
— Lin Ezell, Director, National Museum of the Marine Corps

"Robin Hutton's telling of the story of animals used in war brings to light a history unknown to many. Hutton's work tracks the use of dogs, pigeons and horses starting with WWII, and tells the compelling, heartwarming, and sometimes tragic stories of the animal heroes that have served in the military."
— Toni Kiser, co-author of Loyal Forces: The American Animals of World War II and Assistant Director for Collections Management at the World War II Museum in New Orleans

"A heartwarming experience. Hutton gives readers faith that our humanity comes not only from our own element, but also from the creatures who give unconditionally, and in times of war—the beloved animals we put our unconditional faith in."
— Scott Huesing, U.S. Marine Corps major (retired) and author of Echo in Ramadi: The Firsthand Story of U.S. Marines in Iraq's Deadliest City



"With War Animals, Robin Hutton has once again triggered readers' fascination with her unique talent to humanize a wide range of courageous animals who tried to change the tides of war. I loved it!"
— James E. "Ted" Bassett III, World War II veteran (4th Marines), former director of the Kentucky State Police



"As a Marine Scout Dog Handler who served in Vietnam with dog Stormy, I have to say this is one awesome book. It is full of information on the war animals of World War II. This is a must read."
— Ron Aiello, President, United States War Dogs Association