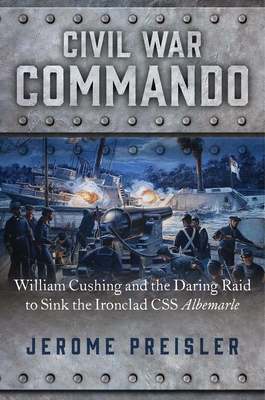 Civil War Commando (Hardcover)
William Cushing's Daring Raid to Sink the Invincible Ironclad C.S.S. Albemarle
Regnery History, 9781621576792, 320pp.
Publication Date: October 20, 2020
* Individual store prices may vary.
Description
"I…recommend that Lieutenant William B. Cushing, US Navy, receive a vote of thanks from Congress for his important, gallant and perilous achievement in destroying the rebel ironclad steamer Albemarle.
–Abraham Lincoln to Congress, December 18, 1864

Civil War Commando is the incredible tale of two giants on a historic collision course: Will Cushing, the United States Navy's first naval commando, and the unsinkable Confederate ironclad Albemarle, Terror of the Roanoke, an innovative war machine that seized control of the Roanoke River Valley and threatened to cost the Union the war.

Cushing has been cited by historians as the inspiration for Star Wars' Luke Skywalker character, and his attack on the Albemarle called the "greatest feat of arms in American military history." Yet the full story of the man-and his daring mission of personal revenge against an iron monster-has never been told.

Using primary source materials, contemporaneous journals, and archival military records, richly illustrated with photos, maps, and rare hand-drawn schematics not seen in over a 150 years, Civil War Commando will reveal the dramatic story of the Albemarle's creation, Will Cushing's colorful life and career, and the groundbreaking naval tactics he developed-tactics that not only saved Abraham Lincoln's presidency, but were the foundation of the modern day Navy SEALs.
About the Author
Author Jerome Preisler is the national bestselling author of the Tom Clancy "Power Play" series, written and published after Clancy's death.
or
Not Currently Available for Direct Purchase