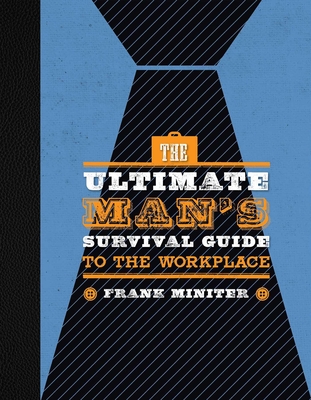 The Ultimate Man's Survival Guide to the Workplace
Hardcover

* Individual store prices may vary.
Other Editions of This Title:
Hardcover (4/14/2009)
Description
The long overdue follow-up to Miniter's bestselling The Ultimate Man's Survival Guide: Rediscovering the Lost Art of Manhood, this hilarious and colorful guide to surviving the modern office is an absolute must for any man whose instincts are frequently leading him into saying and doing the absolute wrong thing in the workplace.

And yes, we're talking about you.
Praise For The Ultimate Man's Survival Guide to the Workplace…
"Today's workplace is a battlefield. Your life might not be at risk, but your livelihood sure is. With this in mind, when I cracked open The Ultimate Man's Survival Guide to the Workplace I wasn't surprised to find it to be an essential primer for navigating the nine to five world…What surprised me was how much I wished I had this book when I first entered the Army. This book cuts out the business-school speak and tells you what you really need to know to make it in any company or bureaucracy…Miniter is right about this and so much more. His detailed advice, some gleaned from interviews with many notable professionals from many fields, is the guidebook to all you need to know to succeed in the battlefield that is today's workplace."
— Former Green Beret Greg Stube, author of Conquer Anything: A Green Beret's Guide to Building Your A-Team

"It used to be that a man was ideally expected to try to be well-rounded, to be a Renaissance man…who is well read and travelled, who understands and has honed both the physical and the intellectual parts of himself, who is a gentleman, and who will stand up for what's right in small ways around the workplace and in big ways in times of great national peril. I don't want to give up these American ideals. I also don't think most Americans want to give them up. That's why, in these perilous times in our politics and workplaces, honest guidebooks like The Ultimate Man's Survival Guide to the Workplace are essential to showing people how to be gentlemen who can survive and thrive today."
— Businessman Donald Trump Jr.
Regnery Publishing, 9781621577911, 256pp.
Publication Date: September 24, 2019
About the Author
Frank Miniter has floated the Amazon, run with the bulls of Pamplona, hunted everything from bear in Russia to elk with the Apache to kudu in the Kalahari, and he has fly-fished everywhere from Alaska's Kenai to Scotland's River Spey to Japan's freestone streams. Along the way he was taught to box by Floyd Patterson, spelunked into Pompey's Cave, climbed everywhere from New York's Gunks to the Rockies, and studied Kenkojuku Karate with Sensei Masakazu Takahashi. He graduated from the oldest private military academy in the United States, a place that still teaches honor and old-school gentlemanly conduct. He believes that American men need this book because too many have forgotten—or never been taught—the gentleman's code of honor.

He is the author of several books, including the bestselling Ultimate Man's Survival Guide and The Politically Incorrect Guide to Hunting, has won numerous awards for his outdoors and conservation writing, and has contributed articles to Forbes, National Review, The Washington Times, The Washington Examiner, Foxnews.com, and many other outlets. He was a senior editor at Outdoor Life magazine and an executive editor at American Hunter magazine. Currently, he is editor in chief of the NRA's political magazine, America's 1st Freedom.