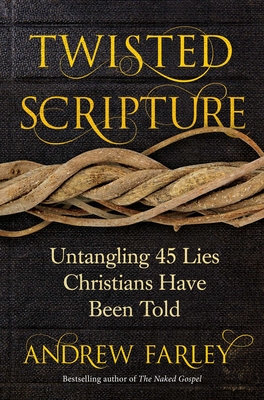 Twisted Scripture (Paperback)
Untangling 45 Lies Christians Have Been Told
Salem Books, 9781621578116, 370pp.
Publication Date: May 14, 2019
* Individual store prices may vary.
Description
In Twisted Scripture, Andrew unravels popular misconceptions we have about God and showcases the surprising truth that sets us free. Read this book to discover the clarity and beauty of the Gospel just as God intended.

—Bart Millard, singer/songwriter for MercyMe

Confront the lies that hold you back. Discover the truth that sets you free.

Let's face it - the Bible contains passages that are challenging to interpret and can even incite fear. Sure, we want to believe that God's grace applies to our unique troubles: addiction, divorce, habitual sins, or a feeling of distance from God because we don't seem to measure up. Still, perplexing Bible passages eat at us.

Bestselling author and national radio host Dr. Andrew Farley is known to challenge legalistic and lifeless interpretations with his discerning take on controversial Scriptures.

In Twisted Scripture, Andrew skewers sacred cows and shatters destructive lies, bringing the undiluted truth about God's love and grace in a colorful and conversational look at the most controversial passages in the New Testament.

This book offers more than just encouragement and freedom. It may change everything about the way you see yourself and God.
About the Author
Andrew Farley is a bestselling author of six books and pastor of Church Without Religion, a non-denominational, evangelical Bible church in west Texas. Andrew also serves as president of Andrew Farley Ministries (see AndrewFarley.org) and hosts Andrew Farley LIVE on Sirius XM.

For 17 years, Farley served as a professor of applied linguistics at University of Notre Dame, where he held an Endowed Chair position, and at Texas Tech University where he earned a university award for his excellence in teaching.

Farley received his B.A. from Furman University, his M.A. from University of Georgia, and his Ph.D. from the University of Illinois at Urbana-Champaign.

Andrew lives in west Texas with his wife Katharine and their son Gavin.