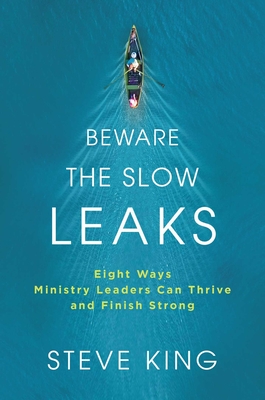 Beware the Slow Leaks
Eight Ways Ministry Leaders Can Thrive and Finish Strong
Hardcover

* Individual store prices may vary.
Description
"Urgent, timely, and inspiring biblical wisdom for Christian leaders who want to start strong, thrive fully, and finish well!" –W. Scott Brown, Christian Leadership Alliance

"Too often technique and numeric growth are on the minds of young pastors. Learn from a veteran and seek faithfulness!" –Matt Schmucker, co-founder, 9Marks

"A powerful and preventive message for every pastor who desires to hear 'well done' at the finish line." –Cliff Clifton, North American Mission Board, director of Send DC

As leaders, it's our greatest desire: a life that honors God, strengthens our family, and draws those we lead to Jesus Christ. But behind our well-intentioned efforts and carefully prepared sermons, we also carry fear of failure, disappointments, hurts, and hidden sins. These can become slow leaks resulting not only in public failure, but more importantly, in devastation to those we love and lead.

But here's the good news:

You don't have to live in fear. The God who called you stands ready to empower you to confidently plug the slow leaks in your life, to vigorously flourish, and to finish well.

In Beware the Slow Leaks, Pastor Steve King draws on over forty years of ministry to equip Christian leaders to build healthy, gospel-centered habits now so they don't have to bail their ship later. With biblical wisdom, personal stories, and spiritual care, King inspires ministers to practice what they preach—providing eight pro-active strategies to help Christian leaders fully thrive and confidently finish.

Now is the time to fortify your hull against the slow leaks. Join Pastor King as he points you to the God who has called you to sail the waters with Him, not just bail your boat.
Salem Books, 9781621578123, 256pp.
Publication Date: June 4, 2019
About the Author
Pastor Steve King has served as the senior pastor at Cherrydale Baptist Church in Arlington, Virginia, since 1983. Now entering his fourth decade of ministry, King has a passion to make disciples who love God and people above all else. He has served on the board of Pioneers international for twenty-nine-years, is part of the leadership team of One Heart DC, and has hosted the Renewing Hope radio program on WAVA 105.1 (Washington, DC) for twenty-six years. He and his wife, Mae Belle, have been married for forty-five years and have two sons, Caleb and Joshua, and a grand-daughter, Elise.
or
Not Currently Available for Direct Purchase