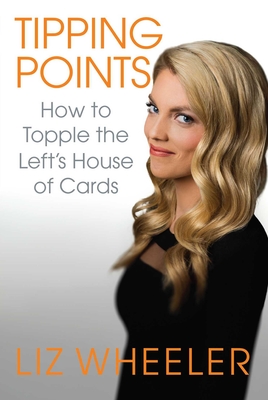 Tipping Points
How to Topple the Left's House of Cards
Hardcover

* Individual store prices may vary.
Other Editions of This Title:
MP3 CD (10/8/2019)
Description
NATIONAL BESTSELLER

"Terrific." — BEN SHAPIRO

"Outstanding." — DANA LOESCH

The Left is on the attack, and the war for our country is at a crucial tipping point.

Liberals know they're within reach of radically transforming America. They don't like the U.S. Constitution. They're allergic to Americans' "gun culture." They find our faith and our devotion to family distasteful. And our commitment to liberty positively sends them into a panic.

As soon as the Democrats get power anywhere, they stand ready to throw our God-given rights under the bus of political correctness, transgender insanity, and socialism (the economic system that always promises equality and utopia, but somehow always delivers resentment, poverty, and decay). So how can we tip the momentum back in our favor? How can we fight effectively for freedom, the U.S. Constitution, limited government, faith and family, and the survival of the American Republic?

Liz Wheeler to the rescue! The popular host of One America News Network's "Tipping Point with Liz Wheeler" is a brilliant and highly effective debater who shows how we can go on the rhetorical attack against the Left—and win—with a multi-technique program for catching the Left in their inconsistencies and under-handed schemes and skewering them for their bold-faced lies.

In Tipping Points: How to Topple the Left's House of Cards, Liz Wheeler identifies the five "Tipping Points" where liberals are poised to win, trains you in her proven debating techniques, and deputizes you to take up arms in the fight for our nation's heart and soul.

It's training you need right now, today. Our country is at a tipping point. And make no mistake—if the Left isn't defeated, they're taking down America.
Praise For Tipping Points: How to Topple the Left's House of Cards…
"Liz Wheeler is a terrific voice—and in this book, she offers modes and methods of argumentation every conservative will nd valuable!"
— BEN SHAPIRO, host of The Ben Shapiro Show

"Liz Wheeler represents a rising young generation of conservatives who will no longer be cowed by a culture dominated by leftist activists, institutions, and corporations at odds with their deeply held beliefs. This book shows how to confront the Left with the fierce logic that has become a hallmark of Wheeler's approach to politics, and the reputation of someone who will never back down from a fight."
— BEN DOMENECH, publisher of The Federalist

"Liberals thrive on emotion, not facts. But this book provides the information you need to guide them from their self-imposed fog and into the sunlight."
— DAN BONGINO, author of Spygate

"Outstanding work by Liz Wheeler in Tipping Points to empower and teach everyday Americans how to debunk the Left's talking points. Socialists have nothing left to say once their false narratives have been thoroughly exposed and debunked."
— DANA LOESCH, nationally syndicated radio host
Regnery Publishing, 9781621579250, 256pp.
Publication Date: August 6, 2019
About the Author
Liz Wheeler is the host of Tipping Point with Liz Wheeler on One America News Network.

In April 2018, Liz was profiled by Politico magazine as a "titan of conservative media" along with Ben Shapiro, Sean Hannity, Laura Ingraham, Mark Levin, Tucker Carlson, Allie Stuckey, and Dana Loesch.

In August of 2016, Liz was named a top 10 "30 under 30" conservative rising star by Red Alert Politics. That same year, Liz spoke at CPAC and at the Steamboat Institute Freedom Conference. In 2017, she keynoted the Liberty Dinner for the Riverside Republican Party and in 2018, Liz delivered they keynote address for the Alaska Republican Party's state convention.

Liz's pithy, poignant three-minute Final Point videos, which air at the end of her nightly broadcast on OANN, rack up hundreds millions of views on social media every year.