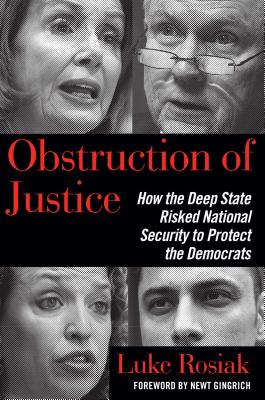 Obstruction of Justice (Hardcover)
How the Deep State Risked National Security to Protect the Democrats
Regnery Publishing, 9781621579434, 311pp.
Publication Date: January 29, 2019
Other Editions of This Title:
MP3 CD (5/21/2019)
* Individual store prices may vary.
Description
Investigative reporter Luke Rosiak is being hailed as "one of the smartest, most diligent reporters in Washington" (TUCKER CARLSON) and "a bulldog" (DANA LOESCH) for uncovering "what is possibly the largest scandal and coverup in the history of the United States House of Representatives" (NEWT GINGRICH).

It's like something out of a spy novel: In the heat of the 2016 election, an unvetted Pakistani national with a proclivity for blackmail gained access to the computer files of one in five Democrats in the House of Representatives. He and his family lifted data off the House network, stole the identity of an intelligence specialist, and sent congressional electronic equipment to foreign officials. And that was only the beginning.

Rather than protect national security, Congress and the Justice Department schemed to cover up a politically inconvenient hack and an underlying fraud on Capitol Hill involving dozens of Democrats' offices. Evidence disappeared, witnesses were threatened, and the supposed watchdogs in the media turned a blind eye.

Combining tenacious investigative reporting and high-tech investigative techniques, Luke Rosiak began ferreting out the truth, and found himself face to face with the "Deep State," observing how Nancy Pelosi's Democrats manipulated the Department of Justice, the media, and even Republican leadership to sabotage the investigation into what Newt Gingrich calls possibly the biggest congressional scandal in history.
About the Author
Luke Rosiak is a Washington-based investigative reporter for the Daily Caller News Foundation who investigates the Department of Justice, waste and dysfunction in the federal government, Congress, and corruption. He previously worked as an investigator for a congressional committee.
Praise For Obstruction of Justice: How the Deep State Risked National Security to Protect the Democrats…
"The cover-up detailed in this book is key reading for anyone who wants to know how the Deep State works—how establishment politicians deviously scheme to control a corrupt Department of Justice bureaucracy and the liberal mainstream media, to manipulate the truth, and deceive the American people. Luke Rosiak has done what these politicians never wanted to; he's uncovered and told the truth."
— Sean Hannity

"My jaw hit the floor; one of the most amazing miscarriages of justice I have ever seen. This book illuminates everything you need to know about a Nancy Pelosi-controlled House. Luke Rosiak is a bulldog, never ceasing until every last detail of the most explosive cover-up by Democrats is made known."
— Dana Loesch

"Rosiak is one of the smartest, most diligent reporters in Washington, and this book is testament to his skills. Future historians trying to make sense of the unprecedented deception and insanity we're now living through will be reading Luke Rosiak."
— Tucker Carlson

"Luke Rosiak is a reporter's reporter—a dedicated, truth-seeking investigator who won't let bureaucrats stonewall him. He tells the extraordinary story of how Republicans and Democrats, the Justice Department, and the FBI worked together to cover up perhaps the worst security breach in congressional history. If you want proof that we need to drain the swamp, you'll find it here."
— Peter Schweizer