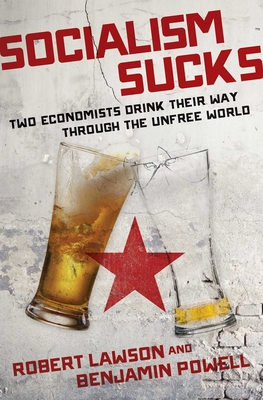 Socialism Sucks
Two Economists Drink Their Way Through the Unfree World
Hardcover

* Individual store prices may vary.
Other Editions of This Title:
Digital Audiobook (7/29/2019)
Compact Disc (8/20/2019)
MP3 CD (8/20/2019)
Description
Do We Have to Say It Again? Socialism Sucks!

Apparently we do. Because today millions of Americans—young and old—are flocking to the socialist banner and chanting, "What do we want? Socialism—the economic system that has impoverished people everywhere and resulted in the deaths of tens of millions! And when do we want it? Now!"

Really?

Most people seem somehow to have missed Economics 101 and don't understand that socialism isn't nice, cuddly government that takes care of everything for you so that you can remain an adolescent forever. No, we've seen it tried over and over again with catastrophic consequences.

Luckily, two semi-sober economists have toured the socialist world so you don't have to. And they've come back with this stunning report: Socialism Sucks!

Along the way, you'll learn:

• Why the so-called Swedish model might be attractive, but sure isn't socialism (Sweden is capitalism with a big welfare state)

• How socialist Venezuela went from being the toast of liberals everywhere—Viva Venezuela!—to being just toast

• Why you never see new cars in Cuba

• Why no one forgets to turn out the lights in North Korea (hint: there aren't any)

• Why American socialists have no idea what socialism really is

How hard it is to find good beer—or sometimes any beer at all—in socialist countries

Irreverent but honest economists Robert Lawson and Benjamin Powell have all the data—and even more important, the firsthand global experience—to affirm that socialism fails to deliver on any of the utopian promises it makes and instead is very bad for your economic (and other) health. This is a book that every American who values freedom and sound economics (and good beer) needs to read.
Praise For Socialism Sucks: Two Economists Drink Their Way Through the Unfree World…
"What a captivating idea Socialism Sucks embraces! A worldwide tour guide written in plain English by two high-end economists. An invasion of the world's most highly regulated hot spots where they can't even ef ciently produce or distribute something as simple and lovable as beer. A down-to-earth, almost fable-like lesson showing socialism's failures for all the world to see. And it even has some sidesplitting hilarity thrown in. I knew these guys were great; but I didn't know this side of them. Buy this book. Give it to your children and grandchildren, and to anyone who touts the nonsense—now fashionable in some American circles—that government power somehow produces more happiness than personal liberty."
— Judge Andrew Napolitano

"Professors Robert Lawson and Benjamin Powell do a yeomen's job in proving that socialism sucks, the apt title for their new book. They show why there's no stampede into countries like Venezuela and Cuba and other socialist darlings of the U.S. leftists. What's more, over a couple of drinks, Lawson and Powell prove that Sweden is not as socialistic as portrayed by our leftists."
— Walter E. Williams

"What is 'socialism'? And do countries that overindulge in it wake up with bad hangovers? You bet they do. Robert Lawson and Benjamin Powell give you the hair-of-the-dog cure. They provide a dose of political economy knowledge mixed with an understanding of the bene ts of economic freedom, add a strong dash of humor, and top it off with a cold beer. Have a Bob & Ben Eye-Opener and you'll feel like (and live in a place where you can make) a million dollars!"
— P.J. O'Rourke
Regnery Publishing, 9781621579458, 224pp.
Publication Date: July 30, 2019
About the Author
Robert Lawson holds the Fullinwider Chair in Economic Freedom and directs the O'Neil Center at the Cox School of Business at Southern Methodist University. Dr. Lawson is a founding co-author of the widely cited Economic Freedom of the World index and has written more than one hundred academic articles, book chapters, policy reports, and book reviews.

Benjamin Powell is the executive director of the Free Market Institute and a professor of economics in the Rawls College of Business Administration at Texas Tech University. He's the author or editor of six other books and has appeared regularly on television and in the popular press.