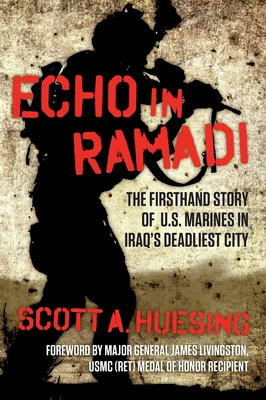 Echo in Ramadi
The Firsthand Story of US Marines in Iraq's Deadliest City
Paperback

* Individual store prices may vary.
Other Editions of This Title:
MP3 CD (6/5/2018)
Hardcover (2/20/2018)
Description
Winner of the 2019 Gold Medal Award, Best Military History Memoir, Military Writers Society of America

Ranked in the "Top 10 Military Books of 2018" by Military Times.

"In war, destruction is everywhere. It eats everything around you. Sometimes it eats at you." —Major Scott Huesing, Echo Company Commander

From the winter of 2006 through the spring of 2007, two-hundred-fifty Marines from Echo Company, Second Battalion, Fourth Marine Regiment fought daily in the dangerous, dense city streets of Ramadi, Iraq during the Multi-National Forces Surge ordered by President George W. Bush. The Marines' mission: to kill or capture anti-Iraqi forces. Their experience: like being in Hell.

Now Major Scott A. Huesing, the commander who led Echo Company through Ramadi, takes readers back to the streets of Ramadi in a visceral, gripping portrayal of modern urban combat. Bound together by brotherhood, honor, and the horror they faced, Echo's Marines battled day-to-day on the frontline of a totally different kind of war, without rules, built on chaos. In Echo in Ramadi, Huesing brings these resilient, resolute young men to life and shows how the savagery of urban combat left indelible scars on their bodies, psyches, and souls. Like war classics We Were Soldiers, The Yellow Birds, and Generation Kill, Echo in Ramadi is an unforgettable capsule of one company's experience of war that will leave readers stunned.
Praise For Echo in Ramadi: The Firsthand Story of US Marines in Iraq's Deadliest City…
"Scott Huesing has done us all an honor and a favor, introducing us to Echo Company 2d Battalion 4th Marines during a horrific tour of duty in the cities of Ramadi and Rutbah in Iraq. This book has it all: Leadership at every level. Combat in all its horror and blood. Death and grieving. Success and failure. Post Traumatic Stress in the wake of war. Huesing paints in the details of dozens of his Marines, especially the eight who were killed in action and one who took his own life after his tour in Hell. You meet their families, as he did, and weep with them. Huesing gave his Marines the best leadership possible and did all he could to bring them all home."
— Joseph L. Galloway
Regnery History, 9781621579618, 256pp.
Publication Date: October 1, 2019
About the Author
Scott A. Huesing is a retired USMC Infantry Major with over 24 years of service, both enlisted and as a commissioned officer. His career spanned 10 deployments and he conducted operations in over 60 countries worldwide. During his numerous deployments to Iraq, Afghanistan, and the Horn of Africa he planned, led, and conducted hundreds of combat missions under some of the most austere and challenging conditions.